The Escape Artist (CD-Audio)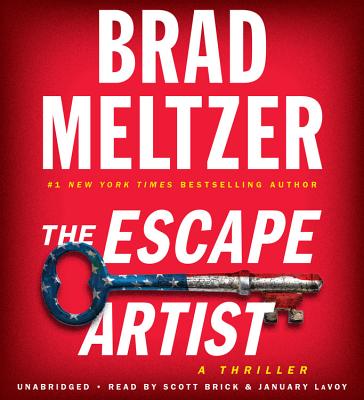 $35.00
Hard to Find - Please Call for Availability
Description
---
#1 NEW YORK TIMES BESTSELLER Nola Brown, the U.S. Army's artist-in-residence--a painter and trained soldier--sees something nobody was supposed to see and earns a dangerous enemy in this novel as powerful as "a launched torpedo slashing through 400 pages of deep water before reaching impact...one of the best thrill rides ever" (David Baldacci). Who is Nola Brown?Nola is a mysteryNola is trouble.And Nola is supposed to be dead. Her body was found on a plane that mysteriously fell from the sky as it left a secret military base in the Alaskan wilderness. Her commanding officer verifies she's dead. The US government confirms it. But Jim "Zig" Zigarowski has just found out the truth: Nola is still alive. And on the run. Zig works at Dover Air Force Base, helping put to rest the bodies of those who die on top-secret missions. Nola was a childhood friend of Zig's daughter and someone who once saved his daughter's life. So when Zig realizes Nola is still alive, he's determined to find her. Yet as Zig digs into Nola's past, he learns that trouble follows Nola everywhere she goes. Together, Nola and Zig will either reveal a sleight of hand being played at the highest levels of power or die trying to uncover the US Army's most mysterious secret--a centuries-old conspiracy that traces back through history to the greatest escape artist of all: Harry Houdini."Meltzer is a master and this is his best. Not since The Girl with the Dragon Tattoo have you seen a character like this. Get ready to meet Nola. If you've never tried Meltzer, this is the one."--- Harlan Coben
About the Author
---
Brad Meltzer is the #1 New York Times bestselling author of The Inner Circle, The Book of Fate, and seven other bestselling thrillers. In addition to his fiction, Brad is one of the only authors to ever have books on the bestseller list for nonfiction (History Decoded), advice (Heroes for My Son and Heroes for My Daughter), children's books (I Am Amelia Earhart and I Am Abraham Lincoln) and even graphic books (Justice League of America). He is also the host of Brad Meltzer's Decoded on the History Channel, and Brad Meltzer's Lost History on H2. He currently lives in Florida. You can find much more about him at BradMeltzer.com. You can also see what he's doing right now at Facebook.com/BradMeltzer and on Twitter @bradmeltzer.
Praise For…
---
"This novel is like a launched torpedo slashing through 400 pages of deep water before reaching impact. Enjoy one of the best thriller rides ever."—
David Baldacci
"THE ESCAPE ARTIST has a magic trick up its sleeve. Part Lisbeth Salander, part
Homeland
's Carrie Mathison. One of the most memorable characters I've read in years. Look out--Nola's coming. This is Meltzer in peak form."—
Lisa Scottoline
"Highly entertaining... Meltzer keeps the action crackling... There's no escaping the solid storytelling of THE ESCAPE ARTIST."
—
Oline Cogdill
,
South Florida Sun-Sentinel
"THE ESCAPE ARTIST is Brad Meltzer's best book in years... Meltzer weaves a stellar tale of history, government-insider knowledge, and thrills... the rare novel that one wants to read fast while also needing to go slow to savor every word."—
Jeff Ayers
,
Associated Press
"Brad Meltzer has done it again! THE ESCAPE ARTIST is an exciting, cutting-edge thriller you will not be able to put down. If you love twists, tension, and tons of amazing characters, treat yourself to this gripping tale by one of the absolute best in the business."—
Brad Thor
"Meltzer is a master and this is his best. Not since The Girl with the Dragon Tattoo have you seen a character like this. Get ready to meet Nola. If you've never tried Meltzer, this is the one."—
Harlan Coben
"THE ESCAPE ARTIST is a slingshot of a novel. Brad Meltzer expertly pulls it back and lets it go, propelling the unlikeliest of heroes forward in a high stakes, high tension thriller that never lets you catch your breath. My advice: Buckle up!"—
Michael Connelly
"A throat-clenching masterpiece of suspense-and damned ingenious to boot. My jaw dropped once more--and so will yours."—
James Rollins
"Stellar...With its remarkable plot and complex characters, this page-turner not only entertains but also provides a fascinating glimpse into American history."—
Publishers Weekly (starred review)
"Gripping... a true page-turner."—
Library Journal (starred review)
"Meltzer has based his literary career on conspiracy-themed stories, and he's very good at them. In Nola and Zig, too, he's created two of his most compellingly fresh characters. Nola, in particular, represents a high point in the author's career: a strong, resourceful, mysterious female lead who could go toe-to-toe with Jack Reacher, Bob Lee Swagger, and the other guys. First of a new series, according to the publisher, and that's just fine."
—
Booklist