Use of Force: A Thriller (The Scot Harvath Series #17) (Hardcover)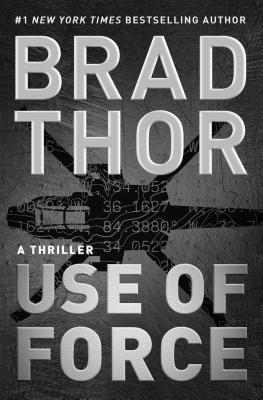 $27.99
Not In Stock - Usually Available in 1-5 Days
Description
---
"With his latest pulse-pounding adventure, Brad Thor puts the rest of the genre on notice—Use of Force is the thriller to beat in 2017."—The Real Book Spy

From #1 New York Times bestselling author Brad Thor.

As a storm rages across the Mediterranean Sea, a terrifying distress call is made to the Italian Coast Guard. Days later, a body washes ashore.

Identified as a high value terrorism suspect (who had disappeared three years prior), his name sends panic through the Central Intelligence Agency.

Where was he headed? What was he planning? And could he be connected to the "spectacular attack" they have been fearing all summer?

In a race against time, the CIA taps an unorthodox source to get answers: Navy SEAL turned covert counterterrorism operative, Scot Harvath.

Hired on a black contract, Harvath will provide the deniability the United States needs, while he breaks every rule along the way.

Packed with pulse-pounding action, fascinating characters, and electrifying intrigue, Brad Thor does it again and proves why he is known around the world as the "Master of Thrillers."
About the Author
---
Brad Thor is the #1 New York Times bestselling author of eighteen thrillers, including Spymaster, Use of Force, The Last Patriot (nominated best thriller of the year by the International Thriller Writers Association), Blowback (recognized as one of the "Top 100 Killer Thrillers of All Time" by NPR), The Athena Project, and Foreign Influence (one of Suspense Magazine's best political thrillers of the year). Visit his website at BradThor.com and follow Brad on Facebook at Facebook.com/BradThorOfficial and on Twitter @BradThor.
Praise For…
---
"His best book yet. Powerful and reads like the news of what is going on today."
— Glenn Beck, #1 New York Times Bestselling Author

"Brad Thor writes like a high-octane mix of Tom Clancy and Robert Ludlum."
— Andrew Mayne, Bestselling Author of NAME OF THE DEVIL

"Pure thriller gold…well conceived, perfectly timed…elegantly paced, harking back to the best of masters like Alistair MacLean and David Morrell."

"The best thriller writer ever."

"No one writes a better thriller than Brad Thor--and USE OF FORCE...will be viewed by many as his very best."

"When you pick up a novel by Brad Thor, you should prepare to become fully immersed in the machinations and inner workings of modern-day counterterrorism operations . . . . I sleep better at night knowing that peole like Thor and Harvath are out there doing what the rest of us are unable to do to keep our world safe."

"Adrenaline junkies, this one's for you . . . Filled with action, patriotism, and plot twists, this adventure will keep you on the edge of your seat from the first page to the last."