Baggage Claim: A Novel (Paperback)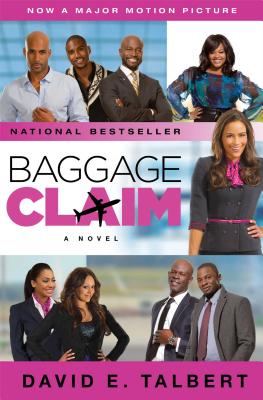 $15.00
Email or call for price.
Description
---
In this national bestseller and basis for the smash hit movie starring Paula Patton, Baggage Claim is the story of one woman who decides that she's done flying solo.

Heralded by the press and millions of theatergoers for his eleven wildly popular musical stage plays, five-time NAACP award-winning playwright David E. Talbert leaps onto the publishing scene with his debut novel, a big-hearted story about friendship, family, and the relentless pursuit of love.

Baggage Claim gives you a first-class peek into the wacky world of Montana Moore, a thirty-five-year-old flight attendant with enough baggage from her past relationships to fill an entire Samsonite showroom. Montana is an incurable romantic. A dreamer. The kind of woman who has her head in the clouds while her heart splatters swiftly to the ground.

With her mother having just tied the knot for a record-breaking fourth time and her baby sister, Sheree, rushing to jump the broom, five-time maid of honor Montana is dangerously close to becoming not only the oldest, but the only woman in her entire family never to be married.

Having convinced herself that there's no way in heaven or hell she's showing up at her sister's Christmas Eve engagement party without a prospect of her own, Montana concocts her wildest and most romantically ridiculous plan yet: a thirty-day, thirty-thousand-mile trek in search of a husband.

Will it be Damon Diesel, a young hip-hop producer whose motto is "Making the green scream and the dolla holla!"? Or will she win over the Reverend Curtis P. Merewether, pastor and founder of Greater House of Deliverance, Tabernacle of Praise, Worship, and Miracles? Of course Langston Jefferson Battle III, superattorney turned city councilman, needs a wife now that his sights are set on the United States Congress. Or perhaps her lifelong mate is Quinton Jamison, a multimillionaire textile guru twenty years her senior. Only time—or the lack of it—will tell.
Fasten your seat belts, lift your tray tables up, and prepare for takeoff. Our final destination: the Altar.
About the Author
---
David E. Talbert is a five-time NAACP Award-winning playwright, filmmaker, and bestselling author. David made his film directorial debut with Sony Pictures' First Sunday, which opened as the #1 comedy in America. David's hit plays and novels include Love on the Dotted Line, What My Husband Doesn't Know, The Fabric of a Man, and Love in the Nick of Tyme. David lives in Los Angeles with his wife Lyn, and newborn son, Elias. Visit his website at DavidETalbert.com.
Praise For…
---
"Deftly written, with some of the best phrases in the business, Baggage Claim will make you feel like you're spending time with old friends. Bravo to Talbert for this entertaining, well-crafted first novel."
— Quarterly Black Review

"Talbert's flair for storytelling and comedic timing make his debut novel a page-turner."
— Black Issues Book Review

"A hilarious, tell-it-like-it-is tale."
— Upscale

"Enormously entertaining. The novel successfully engages the reader with colorful characters that jump right off the pages with life, humor and a strong sense of identity."
— GospelCity.com

"I cannot give Baggage Claim two thumbs up, I have to give it a resounding high five, low five, and any other fives I can come up with."
— Dallasblack.com

"David E. Talbert proves why he's a master at entertainment. Baggage Claim is a spirited tale, rich with hilarity at every turn. . . . An outrageously fun-filled ride."
— Lolita Files, author of Scenes from a Sistah

"Loaded with humor and fun. An endearing and lighthearted read filled with charming characters, engaging dialogue and clever writing."
— Jacquelin Thomas, author of The Ideal Wife

"With his flair for comedy, romance and inspiration, Talbert is sure to carve for himself a formidable niche in fiction. I never would have guessed he knows so much about women!"
— Suzanne de Passe, co-chairman of de Passe Jones Entertainment

"Fun, hilarious, and deeply entertaining. In a word . . . delightful!"
— Kimberla Lawson Roby, author of The Reverend's Wife