Italian Moms: Something Old, Something New: 150 Family Recipes (Hardcover)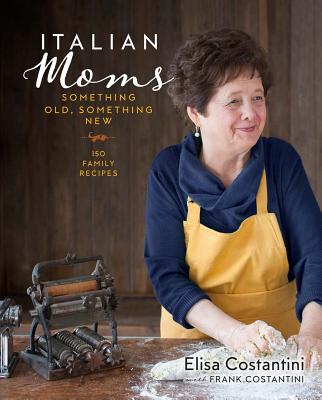 Description
---
"The best reason of all to say 'Mamma mia '" --Booklist (starred review)
"Costantini presents these hearty, approachable recipes with sincerity and grace." --Publishers Weekly
"Costantini blends recipes and memoir to brilliant effect." --Library Journal

In her second cookbook, Elisa Costantini not only illuminates Italian cuisine through 150 homestyle recipes, she offers a loving celebration of food, family, and culture.

Elisa Costantini once again shares her vision of Italian home cooking. In this sequel to her bestselling debut cookbook, Italian Moms: Spreading Their Art to Every Table, she serves up more than 150 recipes: some are influenced by her childhood in Abruzzo and others are reinvented classic dishes that pay homage to newer generations of Italian-Americans. In the wake of her first book, Elisa received dozens of e-mails from readers asking her to identify recipes they remembered from childhood, but were unable to find. Elisa, with her profound understanding and love of Italian culinary traditions and ingredients, painstakingly reconstructed these beloved dishes from letters, notes, and memories--and developed many new ones, too. Her food, from antipasti to desserts, brings together family and friends, young and old, to the table to honor great food, traditions, and most of all, each other's company.

RECIPES INCLUDE:
Verdure Miste Fritte (Fried Vegetables) * Sausage Crostini * Pancetta Corn Cakes * Tuna and Chili Pepper Tea Sandwich * Pasta Fagioli * Penne with Lobster * Fusilli with Broccoli Rabe * Beetroot and Farro Soup * Seafood Risotto * Italian Easter Pie * Veal Marsala * Lamb with Egg and Cheese * Chicken Saltimbocca * Panna Cotta * Anisette Biscotti * Italian Rum Trifle * plus a variety of sauces, spreads, and jams.
About the Author
---
Elisa Costantini was born in Poggio Valle, Italy. The daughter of farmers, she learned to cook at a very young age using simple, fresh ingredients. She wrote this book as a legacy for her children and grandchildren, and to help home cooks make wonderful meals for loved ones. For more than 35 years, Elisa has used her expert cooking skills to provide for children with special needs at Divine Providence Village in Springfield, PA. She lives in Collegeville, PA.