Song of Spider-Man: The Inside Story of the Most Controversial Musical in Broadway History (Paperback)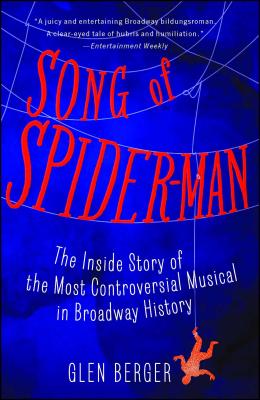 $18.99

Not In Stock - Usually Available in 1-5 Days
Description
---
"One of the best literary works of this year" (Miami Herald-Tribune): The true story of a theatrical dream—or nightmare—come true…the making of the Spider-Man musical.

As you might imagine, writing a Broadway musical has its challenges. But it turns out there are challenges one can't begin to imagine when collaborating with two rock legends and a superstar director to stage the biggest, most expensive production in theater history. Renowned director Julie Taymor picked playwright Glen Berger to cowrite the book for a $25 million Spider-Man musical. Together—along with U2's Bono and Edge—they would shape a work that was technically daring and emotionally profound, with a story fueled by the hero's quest for love…and the villains' quest for revenge. Or at least, that's what they'd hoped for.

But when charismatic producer Tony Adams died suddenly, the show began to lose its footing. Soon the budget was ballooning, financing was evaporating, and producers were jumping ship or getting demoted. And then came the injuries. And then came word-of-mouth about the show itself. What followed was a pageant of foul-ups, falling-outs, ever-more harrowing mishaps, and a whole lot of malfunctioning spider legs. This "circus-rock-and-roll-drama," with its $65 million price tag, had become more of a spectacle than its creators ever wished for. During the show's unprecedented seven months of previews, the company's struggles to reach opening night inspired breathless tabloid coverage and garnered international notoriety.

Through it all, Berger observed the chaos with his signature mix of big ambition and self-deprecating humor.
About the Author
---
Glen Berger cut his teeth at Seattle's Annex Theatre back in the '90s. His plays since then include Underneath the Lintel, which has been staged more than two hundred times worldwide, been translated into eight languages, and won several Best Play awards; and O Lovely Glowworm, a 2005 Portland Drammy Award Winner for Best Script. He is a New Dramatists alumnus. In television, Glen has won two Emmys (out of twelve nominations), and has written more than 150 episodes for children's television series including Arthur (PBS), Peep (Discovery/The Learning Channel), Big and Small (BBC), and Fetch (PBS), for which he was the head writer for all five years of its run. Glen spent six years cowriting the script of Spider-Man: Turn Off the Dark.
Praise For…
---
"An absorbing… account of one of show biz's more bizarre real-life adventures."
— USA Today

"Mr. Berger knows how to write, and he can tell a good story."
— New York Times

"Juicy and entertaining…"
— Entertainment Weekly

"Hilarious and engrossing. . ."
— Miami Herald-Tribune

"Self-deprecating, funny, wise… and more than a little wistful…"
— American Theatre Magazine

"Spider-Man: Turn Off the Dark turned out to be a dud, but Berger's book is one of the best recent accounts of the making and unmaking of a big Broadway show."
— Connecticut Post

"This book should be required reading for all theater students."
— TheaterMania.com

"This juicy memoir offers up the requisite dirt to make a satisfying read for Broadway carrions and disaster junkies alike…."
— TheaterMania.com

"An entertaining tell-all about this infamous musical that, in the fall of 2010, made headlines almost every day…. an accurate and candid account."
— New York Post

"[A] captivating new tell-all….a fascinating conflict between art and commerce, ideology and reality, and friends-turned-enemies….If you only know Turn Off the Dark for the countless jokes it spawned, illuminate yourself to the true story of what happened. It's more funny and strange than you could have possibly imagined."
— Topless Robot

"[Berger] packs six years' worth of unbearable turmoil into 384 vastly readable pages. The result should be required reading for not only theater majors, but business majors in colleges nationwide….SONG OF SPIDER-MAN is an eye-opener, even for those who followed the press closely."
— Bookgasm.com

"An additive tell-all… [Berger's] a damn fine story-teller."
— Word and Film

"A truly remarkable book."
— Reviews Gate