Since You've Been Gone (Paperback)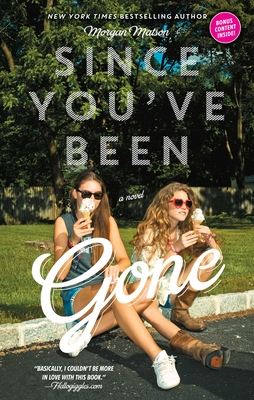 Staff Reviews
---
Morgan Matson is known for her summer contemporaries, and this one doesn't dissapoint. Emily's (much more adventourous and outgoing) best friend Sloane disappears, only leaving behing a to-do list for the summer. On this list include anything from "kiss a stranger" to "dance until dawn." Not only is the plot entertaining, but the characters, song playlists, and overall feeling of summer are so fun to read about! I related a lot to Emily's personality, and I loved following her on this journey. You will be in the mood for a true "rom-com esque" adventure after reading "Since You've Been Gone!"
— Elise
Description
---
Emily is about to take some risks and have the most unexpected summer ever. Hellogiggles.com says, "Basically I couldn't be more in love with this book," from the bestselling author of Second Chance Summer and Amy and Roger's Epic Detour.

Before Sloane, Emily didn't go to parties, she barely talked to guys, and she didn't do anything crazy. Enter Sloane, social tornado and the best kind of best friend—someone who yanks you out of your shell.

But right before what should have been an epic summer, Sloane just…disappears. There's just a random to-do list with thirteen bizarre tasks that Emily would never try. But what if they can lead her to Sloane?

Apple picking at night? Okay, easy enough.

Dance until dawn? Sure. Why not?

Kiss a stranger? Wait…what?

Getting through Sloane's list will mean a lot of firsts, and with a whole summer ahead of her—and with the unexpected help of the handsome Frank Porter—who knows what she'll find.

Go Skinny Dipping? Um…

—Includes sixteen pages of bonus content!—
About the Author
---
Morgan Matson is a New York Times bestselling author. She received her MFA in writing for children from the New School and was named a Publishers Weekly Flying Start author for her first book, Amy & Roger's Epic Detour, which was also recognized as an ALA Top Ten Best Book for Young Adults. Her second book, Second Chance Summer, won the California State Book Award. She lives in Los Angeles. Visit her at MorganMatson.com.
Praise For…
---
"Matson's characters feel like familiar, comforting friends.... It's a sweet, leisurely read with a title that, thanks to Kelly Clarkson, begs to be shouted out loud."
— Publishers Weekly

"A winning blend of touching moments, memorable characters and situational humor takes readers to a surprising revelation at the story's end."
— Kirkus

"Readers will root for Emily.... A thoroughly enjoyable book with a terrific romantic subplot and an ending that ties up the loose ends believably and satisfyingly."
— School Library Journal

Morgan Matson "creates a time-and-space experience for teens that might actually interrupt their social media convos until they're finished reading."
— Booklist

"Matson writes with humor and the rare ability to outline a character in a few, well-chosen words.... This engaging story is a solid choice for both school and public libraries."
— VOYA

"We fell crazy in love with these characters."
— Justine Magazine

"After reading Since You've Been Gone, I'm placing Morgan Matson on my list of Authors Whose Books I'll Always Read."
— "Hello Giggles'