Chain of Gold (The Last Hours) (CD-Audio)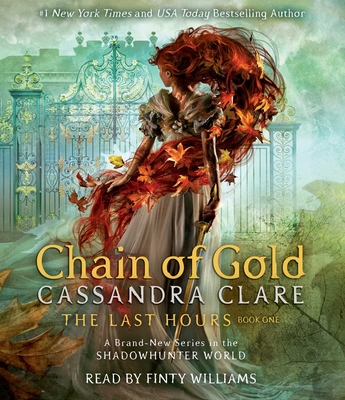 $49.99
Email or call for pricing & availability
Staff Reviews
---
Everything about this book makes me happy, from the new characters, to my favorite old characters from The Infernal Devices. You do not need to have read the previous books to understand this one, which is great for new fans. This book is making me feel nostalgic in all of the best ways. The world is fantastic, the demons are back and scarier than ever, I'm in love!!! Clare's world building keeps getting better with each series.
— Anna
Cassandra Clare just doesn't miss (except that one time she did--iykyk). Set in Edwardian London, CHAIN OF GOLD follows Cordelia Carstairs as she tries to integrate herself into London society, battling social norms, secrets about her family, young love, and, oh yeah, an entirely new classification of demons that come out during the day. This book is perfect for both old fans of Clare and readers new to the epic Shadowhunters universe!
— Mackenzie
Description
---
INCLUDES "FAIRY TALE OF LONDON" A BONUS SHORT STORY FEATURING WILL AND TESSA!

#1 New York Times bestseller

"A pure distillation of fantasy's enchanting mirror held up to our own truths." —Entertainment Weekly
"Richly imagined…rife with action, intrigue, and smoldering romance." —Publishers Weekly

From #1 New York Times and USA TODAY bestselling author Cassandra Clare comes the first novel in a brand-new trilogy where evil hides in plain sight and love cuts deeper than any blade. Chain of Gold is a Shadowhunters novel.

Cordelia Carstairs is a Shadowhunter, a warrior trained since childhood to battle demons. When her father is accused of a terrible crime, she and her brother travel to London in hopes of preventing the family's ruin. Cordelia's mother wants to marry her off, but Cordelia is determined to be a hero rather than a bride. Soon Cordelia encounters childhood friends James and Lucie Herondale and is drawn into their world of glittering ballrooms, secret assignations, and supernatural salons, where vampires and warlocks mingle with mermaids and magicians. All the while, she must hide her secret love for James, who is sworn to marry someone else.

But Cordelia's new life is blown apart when a shocking series of demon attacks devastate London. These monsters are nothing like those Shadowhunters have fought before—these demons walk in daylight, strike down the unwary with incurable poison, and seem impossible to kill. London is immediately quarantined. Trapped in the city, Cordelia and her friends discover that their own connection to a dark legacy has gifted them with incredible powers—and forced a brutal choice that will reveal the true cruel price of being a hero.
About the Author
---
Cassandra Clare is the author of the #1 New York Times, USA TODAY, Wall Street Journal, and Publishers Weekly bestselling Shadowhunter Chronicles. She is also the coauthor of the bestselling fantasy series Magisterium with Holly Black. The Shadowhunter Chronicles have been adapted as both a major motion picture and a television series. Her books have more than fifty million copies in print worldwide and have been translated into more than thirty-five languages. Cassandra lives in western Massachusetts with her husband and three fearsome cats. Visit her at CassandraClare.com. Learn more about the world of the Shadowhunters at Shadowhunters.com.