American Assassin: A Thriller (CD-Audio)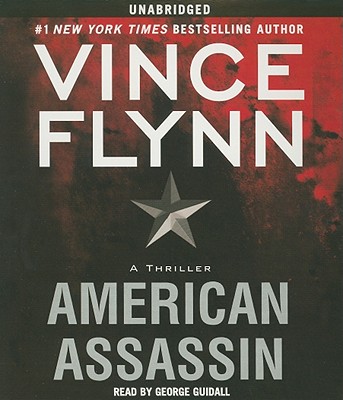 $39.99
Not In Stock - Usually Available in 1-5 Days
Description
---
Now a major motion picture

New York Times bestselling author Vince Flynn returns with his most exhilarating political thriller to date, a pulse-pounding tale of espionage that introduces fans to the young Mitch Rapp as he takes on his first, explosive assignment.

Before he was considered a CIA super-agent, before he was thought of as a terrorist's worst nightmare, and before he was both loathed and admired by the politicians on Capitol Hill, Mitch Rapp was a star college athlete with an untapped instinct for violence.

Tensions in the Middle East are simmering when CIA Director Irene Kennedy pays a visit to Syracuse University, where she hopes to recruit none other than Mitch Rapp, a student who has quickly climbed up the academic and athletic ranks. Tragedy entered Mitch's life a year before, when thirty-five of his classmates, including his girlfriend, perished in Pan Am flight 103. Since then, Mitch has grieved for their senseless deaths and has felt helpless in his desire for revenge. When Kennedy arrives on campus, his career path is suddenly laid out for him.

Nine months later, after grueling training, Mitch finds himself in Istanbul on his first assignment, which is to assassinate the Turkish arms dealer who sold the explosives used in the Pan Am attack. Mitch hits his target, but quickly sees, for the first time, what revenge means to the enemy. When Mitch's mentor and a fellow recruit are kidnapped and tortured by a dangerous group of Islamic jihadists, he must stop at nothing to save them.
About the Author
---
#1 New York Times bestselling author Vince Flynn (1966–2013) created one of contemporary fiction's most popular heroes: CIA counterterrorist agent Mitch Rapp, featured in thirteen of Flynn's acclaimed political thrillers. All of his novels are New York Times bestsellers, including his stand-alone debut novel, Term Limits. The Mitch Rapp story begins with American Assassin, followed by Kill Shot, Transfer of Power, The Third Option, Separation of Power, Executive Power, Memorial Day, Consent to Kill, Act of Treason, Protect and Defend, Extreme Measures, Pursuit of Honor, The Last Man, The Survivor, Order to Kill, Enemy of the State, and Red War. American Assassin was released as a major film in 2017.