The Oil Kings: How the U.S., Iran, and Saudi Arabia Changed the Balance of Power in the Middle East (Paperback)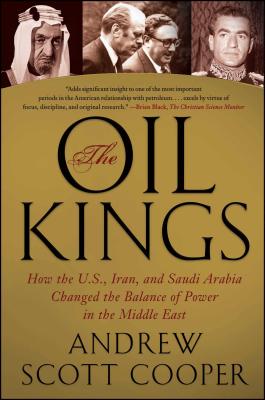 $22.00

Not In Stock - Usually Available in 1-5 Days
Description
---
"Relying on a rich cache of previously classified notes, transcripts, cables, policy briefs, and memoranda, Andrew Cooper explains how oil drove, even corrupted, American foreign policy during a time when Cold War imperatives still applied,"* and tells why in the 1970s the U.S. switched its Middle East allegiance from the Shah of Iran to the Saudi royal family.

While America struggles with a recess ion, oil prices soar, revolution rocks the Middle East, European nations risk defaulting on their loans, and the world teeters on the brink of a possible global financial crisis. This is not a description of the present, however, but the 1970s. In The Oil Kings, Andrew Cooper tells the story of how oil came to dominate U.S. domestic and foreign policy.

Drawing on newly declassified documents and interviews with some of the key figures of the time, Cooper follows the political posturing and backroom maneuvering that led the U.S. to switch to OPEC as its main supplier of oil from the Shah of Iran, a loyal ally and leading customer for American weapons. The subsequent loss of U.S. income destabilized the Iranian economy, while the U.S. embarked on a long relationship with the autocratic Saudi kingdom that continues to this day.

Brilliantly reported and filled with astonishing revelations—including how close the U.S. came to sending troops into the Persian Gulf to break the Arab oil embargo and how U.S. officials offered to sell nuclear power and nuclear fuel to the Shah—The Oil Kings is the history of an era that we thought we knew, an era whose momentous reverberations still influence events at home and abroad today.
About the Author
---
Andrew Scott Cooper holds advanced degrees from Columbia University, University of Aberdeen, and Victoria University. Dr. Cooper has worked at the United Nations and Human Rights Watch and is a columnist for PBS/Frontline's Tehran Bureau.
Praise For…
---
"[A] compelling chronicle of America's involvement with Middle East petroleum states."
—Michael Hiltzik, The Los Angeles Times