Toil & Trouble (Large Print / Library Binding)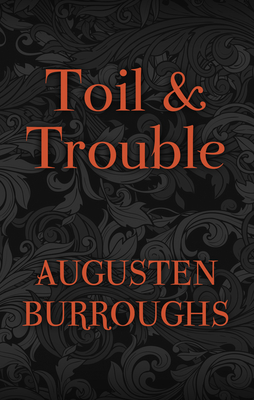 $35.99
Email or call for price.
October 2019 Indie Next List
---
"Augusten Burroughs never ceases to amaze his readers with his honest stories, and Toil & Trouble won't disappoint his fans! A gift shared with his mother, witchcraft has been passed down his family tree and has guided his life. Moving from the city life to the wilds of Connecticut, Burroughs' gift guides him and husband Christopher to the right place at the right time—and saves them with a little premonition! You are invited (perhaps welcomed?) to be skeptical, but once you finish the book you might just wonder why you ever were."
— Jennifer Kandarian, Books on the Square, Providence, RI
Winter 2020 Reading Group Indie Next List
---
"You don't have to be a believer to love this memoir from Augusten Burroughs. The story of how he and his husband decide to move from Manhattan to Connecticut, with all of its real estate woes, renovation horrors, and natural disasters, is hilarious on its own. The supernatural underpinnings cast an eerie shadow over the whole thing. I might not believe in witchcraft, but Augusten Burroughs is definitely a witch!"
— Susan Taylor, Book House of Stuyvesant Plaza, Albany, NY
Description
---
From the number one New York Times bestselling author comes another stunning memoir that is tender, touching...and just a little spooky.
"Here's a partial list of things I don't believe in: God. The Devil. Heaven. Hell. Bigfoot. Ancient Aliens. Past lives. Life after death. Vampires. Zombies. Reiki. Homeopathy. Rolfing. Reflexology. Note that 'witches' and 'witchcraft' are absent from this list. The thing is, I wouldn't believe in them, and I would privately ridicule any idiot who did, except for one thing: I am a witch." For as long as Augusten Burroughs could remember, he knew things he shouldn't have known. He manifested things that shouldn't have come to pass. And he told exactly no one about this, save one person: his mother. His mother reassured him that it was all perfectly normal, that he was descended from a long line of witches, going back to the days of the early American colonies. And that this family tree was filled with witches. It was a bond that he and his mother shared--until the day she left him in the care of her psychiatrist to be raised in his family (but that's a whole other story). After that, Augusten was on his own. On his own to navigate the world of this tricky power; on his own to either use or misuse this gift. From the hilarious to the terrifying, Toil & Trouble is a chronicle of one man's journey to understand himself, to reconcile the powers he can wield with things with which he is helpless. There are very few things that are coincidences, as you will learn in Toil & Trouble. Ghosts are real, trees can want to kill you, beavers are the spawn of Satan, houses are alive, and in the end, love is the most powerful magic of all.
About the Author
---
AUGUSTEN BURROUGHS is the number one New York Times bestselling author of This is How, A Wolf at the Table, You Better Not Cry, Possible Side Effects, Magical Thinking, Dry, Running with Scissors, and Sellevision.