The City of a Thousand Faces (Hardcover)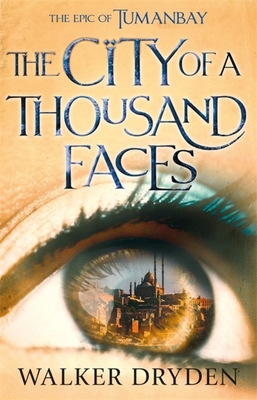 $26.99
Email or call for price.
Description
---
'A complex, gorgeous and compelling tapestry of love, death, trust and betrayal' - Daily Mail
A sweeping historical fantasy saga based on the hit podcast Tumanbay

******

'Immersive, rich, compelling and populated with characters who come alive on the page, it will transport you to a different world. I loved it and didn't want it to end.' - Sarah Lotz, author of The Three

'Written with the finesse of a master-assassin's dagger... I could not put it down!' Christian Cameron

******

Tumanbay: the most magnificent city on earth. The beating heart of a vast empire. A city of dreams - where those who arrived as slaves now reside in the seat of power.

But the wheel of fate is never still: from the gilded rooftops to the dark catacombs, there are secrets waiting to be uncovered.

For Gregor, Master of the Palace Guard, the work of rooting out spies and traitors is never done. His brother, the great General Qulan, must quell a distant rebellion. Whilst Shajah, chief wife to the Sultan, is suspicious that her new maid Sarah is not who she claims to be.

And a mysterious stranger arrives with a gift for the Sultan himself.

A gift that will change Tumanbay forever...

******

'Extraordinary. A triumph of the imagination, rooted in the ruthless games of political power that still echo today . . . Read this and be astonished.' Misha Glenny, author of McMafia

'The writing and imagery are flawless, taking you right into the heart of the story and characters. While I was reading, this was MY world, and you can't ask for more than that from a fantasy novel.' Reader review (five stars)
About the Author
---
Walker Dryden is the pseudonym for writing team Mike Walker and John Scott Dryden.
John Scott Dryden is an award-winning writer and director, best known for his work in audio fiction. He created the popular podcast series, Passenger List, and has written and directed many audio drama series for the BBC.
Mike Walker has written series on the Caesars, Plantagenets, Stuarts and Romanovs for the BBC, along with a number of plays and a thriller, Bad Company.
Over the past few years, the two have worked together to bring to life the world of Tumanbay.
Praise For…
---
Immersive, rich, compelling and populated with characters who come alive on the page, it will transport you to a different world. I loved it and didn't want it to end.—Sarah Lotz

Written with the finesse of a master-assassin's dagger... I could not put it down!—Christian Cameron

A complex, gorgeous and compelling tapestry of love, death, trust and betrayal—Daily Mail

Immersive and engaging—SFX

Compellingly written...its urgent storytelling still allows for subtle characterisation and comprehensive world-building. Tumanbay is distinctive and irresistible.—Morning Star

Extraordinary. A triumph of the imagination, rooted in the ruthless games of political power that still echo today . . . Read this and be astonished.—Misha Glenny

A complex, gorgeous and compelling tapestry of love, death, trust and betrayal.—Jamie Buxton, Daily Mail