The Snatchabook (Hardcover)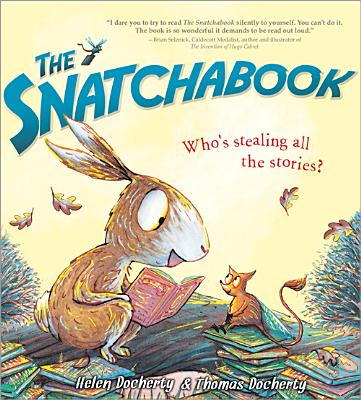 List Price: $17.99
Our Price: $16.99
(Save: $1.00 6%)
Description
---
Age Level: 3 to 6 | Grade Level: P to 2
Where have all the bedtime stories gone? A delightful addition to the picture book canon about the love of reading.
It's bedtime in the woods of Burrow Down, and all the animals are ready for their story. But books are mysteriously disappearing. A rabbit named Eliza Brown decides to stay awake and catch the book thief. It turns out to be a little creature, the Snatchabook, who has no one to read him a bedtime story. All turns out well when the books are returned and the animals take turns reading bedtime stories to the Snatchabook, embodying a wonderful message of forgiveness for kids.
A brilliantly written, laugh-out-loud rhyming bedtime story about books and the joy of reading in the vein of bestsellers It's a Book, How Rocket Learned to Read, and Dog Loves Books.
#1 Autumn 2013 Kids Indie Next Pick
A 2014-2015 Teachers' Choices Reading List Title
"I dare you to try to read The Snatchabook silently to yourself. You can't do it. The book is so wonderful it demands to be read out loud. And besides, if you didn't read the book out loud, how would the Snatchabook hear it?"—Caldecott Medalist Brian Selznick
"[A] rollicking paean to the pleasures of reading aloud."—The Wall Street Journal
Great for parents and educators looking for:
A fun read aloud championing a love for language and books
About the Author
---
Helen Docherty has spent most of her career as a language teacher, most recently specializing in Spanish. She lives in Wales with her husband and co-author, Thomas, and their two young daughters.

Thomas Docherty studied metalwork and sculpture at college before becoming an illustrator of children's book. He lives in Wales with his wife and co-author Helen and their two young daughters. His website is thomasdocherty.co.uk.
Praise For…
---
"This whodunit with an uplifting ending will appeal to fans of How the Grinch Stole Christmas! . . . [it] celebrates bedtime reading as a ritual to be revered, and features a thief who merely wants to share in the fun." — Shelf Awareness Pro

"the tiniest (and the cutest) book thief ever." " — The Christian Science Monitor

"Young kids will delight in this playful rhyming story" — Canadian Family Magazine

"Brilliantly written, laugh-out-loud rhyming verse by Helen Docherty and glowing artwork by Thomas Docherty lend a classic feel to this enchanting story . . .The Snatchabook celebrates the comfort of reading, the warmth of haring, the value of empathy and the joy of friendship." — California Kids!

"This book is adorable..It absolutely hollers to be read aloud! " — Stephanie Kilgore, Changing Hands Bookstore, Tempe, AZ

"I nominate The Snatchabook as the star/poster child of a new Read to Your Child campaign. " — Leslie Reiner, Inkwood Books, Tampa, FL

"Snatchabook is that perfect, magical read-aloud! You'll be reading this story over and over again, so, don't be upset if the pages get a little worn around the edges." — Carolyn Anbar, Watchung Booksellers, Montclair, NJ

"With catchy verse and illuminating illustrations, it is a sweet, imaginative and clever story. I look forward to watching readers fall in love with "The Snatchabook" in October!" — Julie Anne Hughey, Bank Square Books, Mystic, CT

"What's not to love about a picture book that conveys a heartwarming message about bedtime stories and the simple joy of reading together? " — Parenthood.com

"Any reader would be hard-pressed to find a more winsome tale, more fetchingly illustrated than this new one by talented partners (and spouses) Helen and Thomas Docherty. Grade: A+" — The Plain Dealer

"Brilliantly written, laugh-out-loud rhyming verse by Helen Docherty and glowing artwork by Thomas Docherty lend a classic feel to this enchanting story . . .The Snatchabook celebrates the comfort of reading, the warmth of haring, the value of empathy and the joy of friendship." — California Kids!

"Delightful in every way, this rhyming story with its important messages about sharing, empathy and friendship, make "The Snatchabook" first-rate."-Kendal Rautzhan" — Books to Borrow, Books to Buy

"I dare you to try to read The Snatchabook silently to yourself. You can't do it. The book is so wonderful it demands to be read out loud. And besides, if you didn't read the book out loud, how would the Snatchabook hear it?" — Caldecott Medalist Brian Selznick

"The story is sweet and the illustrations darling." — Kirkus Reviews

"Helen Docherty relates the story in a gently rhyming text while Thomas Doherty's colorful illustrations have a cozily old-fashioned look and feel. Overall, the book is a perfect candidate for a bedtime reading session." — Karen MacPherson, Scripps Howard

"With a lighthearted and oh-so-clever rhyme, and illustrations that are absolutely beyond charming, "The Snatchabook" is very likely going to be your child's new bedtime BFF. " — Terri Schlichenmeyer, Bookworm Sez

"[A] rollicking paean to the pleasures of reading aloud. " — The Wall Street Journal

"With rhyming text reminiscent of Dr. Seuss's work, this book refuses to be read silently. . . The gorgeous illustrations are a perfect match for the lively text. This book is a fabulous fit for both storytime and one-on-one reading. Children will be begging for this book to be read to them every night–clever ones will claim they want to keep the Snatchabook happy." — School Library Journal

"The husband-and-wife team of the Dochertys have a winner in this heartwarming tribute to the essential role of bedtime reading in the lives of families." — Publishers Weekly

"This ever-so-sweet story begs to be read out loud. The beautifully lit illustrations are full of fun details that are sure to please little kids, and each creature, from owl to squirrel, is cute as cute can be. No doubt this one will be a hit with kids and parents alike." — Booklist

"This whodunit with an uplifting ending will appeal to fans of How the Grinch Stole Christmas!... Children will revel in the message that bedtime reading is a ritual to be revered and will forgive the Snatchabook for his wish to share in it." — Shelf Awareness for Readers, starred review

"A classic is born! The Snatchabook is an engaging and winsome story celebrating the precious tradition of bedtime stories...What a wonderful book for a child to find wrapped under their decorated tree this year! Highly recommended! " — Nancy Simpson-Brice, Book Vault, Oskaloosa, Iowa

"Looking for a new read aloud picture book so delightful that it sings? Look no further, it's here." — Lisa Von Drasek, EarlyWord