Out for Blood: A Cultural History of Carrie the Musical (Paperback)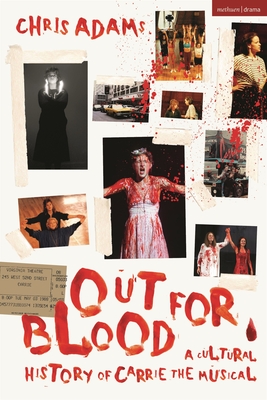 $29.95

Not In Stock - Usually Available in 1-5 Days
Description
---
Featuring contributions from over eighty original cast members, creatives, crew and audience members, Out For Blood pieces together the surprising, hilarious and often-moving inside story of Carrie The Musical to discover how this 'horror of a Broadway musical' lived, died and was subsequently resurrected as a mainstream success story.
In 1988, following the success of its production of
Les Mis rables
and in the wake of the commercial success of mega-musicals such as
Cats, Phantom of the Opera
and
Chess
, the Royal Shakespeare Company agreed to co-produce a musical based on Stephen King's
Carrie
, written by the team behind
Fame
. The result was one of Broadway's most infamous disasters. Plagued by technical problems, on-stage chaos and a critical savaging,
Carrie
would soon become the by-word for musical theatre flops. But thanks to the efforts of a vocal army of fans and the impact of bootleg trading and emerging online communities, the show reinvented itself as a mainstream success story with thousands of productions worldwide. Patching together memories, archive material and contemporary reports,
Out For Blood
dives into the origins and development of this infamous show and examines how a promising entertainment product can swiftly gain a notorious reputation, what makes or breaks a Broadway show, and how even the most unlikely of musicals can find its place in the hearts of fans around the world. Based on the hit ten-part podcast,
Out For Blood
will delight theatregoers, flop aficionados and 'Friends of Carrie' alike.
About the Author
---
Chris Adams is the co-creator and co-host of the acclaimed podcast OUT FOR BLOOD: THE STORY OF CARRIE THE MUSICAL. A lifelong fan of Carrie, he works in London's West End as a Marketing Manager of musicals.