There Was an Old Lady Who Swallowed a Cactus! (Paperback)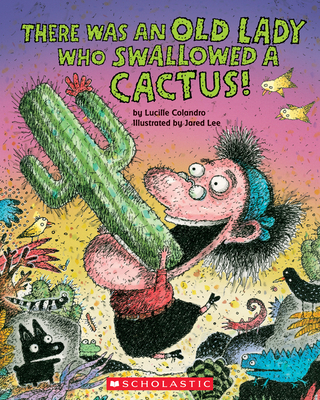 Description
---
You won't believe why the Old Lady swallowed a cactus, sand, a snake, a coyote, suntan lotion, a canteen, and a parasol!There was an old lady who swallowed a cactus. I don't know why she swallowed a cactus but it took lots of practice. Filled with hilarious illustrations and fun rhyming text, this is the latest book in the Old Lady series that's perfect for young readers.
About the Author
---
Jared Lee has illustrated more than 100 books for young readers. He has received awards from the Society of Illustrators, the Martha Kinney Cooper Ohioana Library Association, the National Cartoonists Society, and others. He lives in Ohio with his wife and a menagerie of dogs, cats, ponies, ducks, and a few unknown creatures.
Lucille Colandro has written many books for children, including the bestselling There Was an Old Lady series illustrated by Jared Lee.