Can You See What I See?: Hidden Wonders (From the Creator of I Spy) (Hardcover)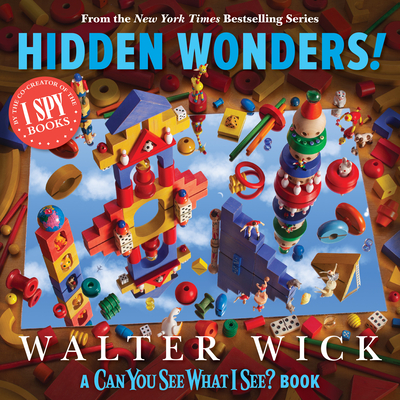 Description
---
Optical illusions abound in a brand-new Can You See What I See? book by I Spy creator Walter Wick.
Featuring all-new rhymes and photographs, Can You See What I See?: Hidden Wonders explores a world of toys, an enchanted ball, the farthest reaches of outer space, and more. Readers of all ages will enjoy the search-and-find adventures and amazing optical illusions.
Stunning photographs accompany playful rhymes by Walter Wick, the creator of the New York Times bestselling Can You See What I See? and I Spy series.
About the Author
---
Walter Wick is the photographer of the international bestselling I Spy series as well as the author and photographer of the acclaimed Can You See What I See? series. He lives with his wife, Linda, in Miami Beach, Florida.
Praise For…
---
* "Rich in wonder, hidden and otherwise... gorgeous and captivating... Brain-bending exercise for eyes and minds of all ages." -- Kirkus Reviews, starred review
Praise for Can You See What I See?: Toyland Express:
"No puzzle here -- these well-designed scenes are another success from the picture-challenge master." -- Kirkus Reviews
Praise for I Spy Christmas:
Parents Magazine Best Book
* "Features gorgeously styled, full-spread color photos of many objects." -- Publishers Weekly, starred review
Praise for I Spy Spooky Night:
* "A must, in multiple copies, for any Halloween collection." -- School Library Journal, starred review
"Spectacularly eerie pictures chock full of hidden objects." -- Booklist
Praise for I Spy: A Book of Picture Riddles:
NYPL 100 Titles for Reading and Sharing
"Definitely fun, and educational, too; this is a true eye-opener." -- Los Angeles Times
* "Rich in wonder, hidden and otherwise... gorgeous and captivating... Brain-bending exercise for eyes and minds of all ages." -- Kirkus Reviews, starred review
Praise for Can You See What I See?: Toyland Express:
"No puzzle here -- these well-designed scenes are another success from the picture-challenge master." -- Kirkus Reviews
Praise for I Spy Christmas:
Parents Magazine Best Book
* "Features gorgeously styled, full-spread color photos of many objects." -- Publishers Weekly, starred review
Praise for I Spy Spooky Night:
* "A must, in multiple copies, for any Halloween collection." -- School Library Journal, starred review
"Spectacularly eerie pictures chock full of hidden objects." -- Booklist
Praise for I Spy: A Book of Picture Riddles:
NYPL 100 Titles for Reading and Sharing
"Definitely fun, and educational, too; this is a true eye-opener." -- Los Angeles Times