The Vanished (Shuri: A Black Panther Novel #2) (Hardcover)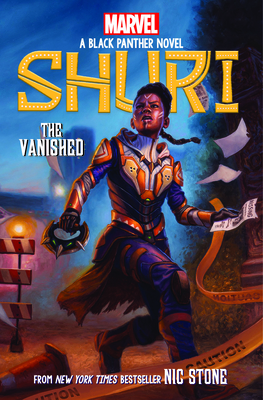 $17.99
Email or call for price.
Description
---
Shuri, the Princess of Wakanda (and sister to the Black Panther), sets out to save a group of kidnapped girls in this all-new, original middle-grade novel by
New York Times
bestselling author Nic Stone!
With the heart-shaped herb thriving, a group of Wakanda's finest engineers working on expanding her dome technology, and the borders more fortified than ever, Princess Shuri can finally focus on what matters most: her training.
Soon, a bigger problem rears its head. The princess hears whispers of exceptionally talented young girls across the world going missing. A young environmental scientist in Kenya, a French physics prodigy -- the list of the missing keeps growing and growing. And when this mystery hits home in a way the princess would've never expected, there's no more time for hesitation: There are lost girls out there somewhere, and Shuri is determined not to let them be forgotten.
About the Author
---
Nic Stone is the New York Times bestselling author of the novels Dear Martin and Odd One Out. She was born and raised in a suburb of Atlanta, Georgia, and the only thing she loves more than an adventure is a good story about one. After graduating from Spelman College, she worked extensively in teen mentoring and lived in Israel for a few years before returning to the US to write full-time. Growing up with a wide range of cultures, religions, and backgrounds, she strives to bring these diverse voices and stories to her work. Learn more at nicstone.info.
Praise For…
---
Praise for Shuri: A Black Panther Novel
"The combination of best-selling Stone and the scene-stealing Shuri from the blockbuster Black Panther is a match made in high-demand heaven." -- Booklist, starred review
"An enjoyable romp . . . " -- Kirkus
Praise for Shuri: The Vanished
"The pacing here is excellent, offering brief, unsettling moments of anticipation as Shuri moves between her studies and heroic escapades . . . a surefire hit for those looking for action and girl power!" -- Booklist
"Fans of the comics, not to mention middle graders who love strong female protagonists using their brains as well as their bravery to save the world, will appreciate this latest in the popular series." -- School Library Journal
Praise for Shuri: A Black Panther Novel
"The combination of best-selling Stone and the scene-stealing Shuri from the blockbuster Black Panther is a match made in high-demand heaven." -- Booklist, starred review
"An enjoyable romp . . . " -- Kirkus
Praise for Shuri: The Vanished
"The pacing here is excellent, offering brief, unsettling moments of anticipation as Shuri moves between her studies and heroic escapades . . . a surefire hit for those looking for action and girl power!" -- Booklist