Science Fair Crisis (DC Comics: Secret Hero Society #4) (Hardcover)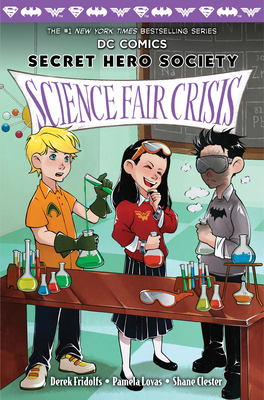 $12.99
Not In Stock - Usually Available in 1-5 Days
Other Books in Series
This is book number 4 in the DC Comics: Secret Hero Society series.
Description
---
The fourth adventure in the Secret Hero Society series starring middle school Clark Kent (Superman(TM)), Arthur Curry (Aquaman(TM)), Bruce Wayne (Batman(TM)), and Diana Prince (Wonder Woman(TM))!
An all-new adventure illustrated by new artist Pamela Lovas! Clark Kent (Superman), Bruce Wayne (Batman), and Diana Prince (Wonder Woman) are starting a new school year at Justice Prep. This semester, everyone is focusing on their science projects: Principal James Gordon announced that the winner of the upcoming science fair gets an all-inclusive trip to the new S.T.A.R. Laboratories space facility.

As the fair draws closer, the students receive a text message from a mysterious, untraceable number saying: "if you help me, I can help YOU win the science fair!" Just who is behind this mystery number, and what do they have to do with the science fair? It's up to Clark, Diana, and Bruce's Junior Detectives Club to find out! With appearances from fan favorites like Arthur Curry (Aquaman) and Lex Luthor, plus all-new characters including Black Manta and Professor Zoom, this hilarious newest chapter in the Secret Hero Society saga is not to be missed!
About the Author
---
Derek Fridolfs is a New York Times bestselling author. With Dustin Nguyen, he cowrote the Eisner-nominated Batman: Li'l Gotham. He's also written and worked on such comics series as Batman: Arkham City Endgame with Paul Dini, Detective Comics, Legends of the Dark Knight, Adventures of Superman, Sensation Comics Featuring Wonder Woman, Catwoman, Zatanna, JLA, Justice League Beyond, and comics based on the cartoons for Adventure Time, Regular Show, Clarence, Pig Goat Banana Cricket, Dexter's Laboratory, Teenage Mutant Ninja Turtles, Teen Titans Go, Looney Tunes, and Scooby-Doo Where Are You! He's written several chapter books for Capstone based on the Justice League.

Pamela Lovas started her career working in Marvel Comics digital department, before working for a variety of comic companies including DC Comics, IDW, Boom Studios, and Dynamite Entertainment. She's drawn and colored a number of comic book series including Adventure Time, Regular Show, Scooby-Doo, Looney Tunes, Teen Titans Go, Back To The Future, and Funko Pop Universe X-Files. DC Comics: Secret Hero Society is her first children's book series.