Flood City (Hardcover)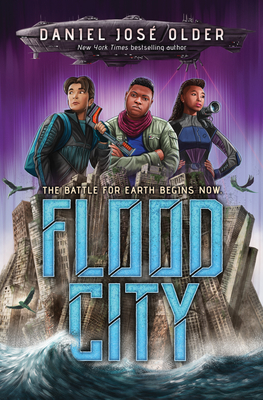 Description
---
The battle for Earth begins now.
Welcome to Flood City, the last inhabitable place left above the waters that cover Earth. It's also the last battleground between the Chemical Barons, who once ruled the planet and now circle overhead in spaceships, desperate to return, and the Star Guard, who have controlled the city for decades.
Born and raised in Flood City, Max doesn't care about being part of either group. All he wants is to play his music with the city band, keep his sister from joining the Star Guard, and be noticed by his crush, the awesome drummer Djinna.
Meanwhile, Ato, a young Chemical Baron, has joined his crew for what was supposed to be a routine surveillance mission, only things go from bad to worse between unexplained iguanagull attacks and the discovery of deadly schemes. Ato's just trying to stay safe, keep his twin brother alive, and not hurt anyone. So when his commander prepares to wipe out Flood City completely, Ato must decide how far he'll go.
As Max's and Ato's paths collide, it changes everything. Because they might be able to stop a coming war. But can two enemies work together to save Earth?
About the Author
---
Daniel José Older has always loved monsters, whether historical, prehistorical, or imaginary. His debut series for young adults, the Shadowshaper Cypher, has earned starred reviews, the International Latino Book Award, and New York Times Notable Book and NPR Best Book of the Year picks, among other accolades. His debut middle-grade series, Dactyl Hill Squad, was named to the New York Times Notable Book list and to the NPR and Washington Post Best Book of the Year lists, among others. He has worked as a bike messenger, a waiter, and a teacher, and was a New York City paramedic for ten years. Daniel splits his time between Brooklyn and New Orleans.
Praise For…
---
Awards and Praise for Dactyl Hill Squad
A New York Times Notable Book
An NPR Best Book of the Year
A School Library Journal Best Book of the Year
A New York Public Library Best Book of the Year
A Washington Post Best Book of the Year
A Publishers Weekly Best Book of the Year
"Older fascinatingly blends thunder-lizard thrills with lesser-known but important aspects of American history... Readers will adore Magdalys Roca... Far from a natural hero, Magdalys displays a realistic mix of terror and gumption in the face of the monsters around her, reptilian and human. Where else will her adventures carry her? There's another installment of this mind-bendingly original series coming, sure to be eagerly awaited." -- New York Times Book Review
* "Epic....This high-energy title is perfect for middle graders, with its strong female protagonist, a fresh perspective on history, helpful notes and resources, and an honest portrayal of the complex topics of race and gender." -- School Library Journal, starred review
* "Delightful historical fantasy... Rooted in real events and attitudes, and appended with facts about the time, this fast-paced adventure makes for a memorable tale in which numerous characters of color take the lead." -- Publishers Weekly, starred review
"Dactyl Hill Squad has everything a reader could possibly want in a middle-grade book: action, adventure, magic, humor and dinosaurs. Magdalys is the same kind of young, engaging and flawed protagonist as Philip Pullman's Lyra -- a character readers can't help but love even when (especially because) she's frustrating. An entertaining and wholly fulfilling series opener." -- Shelf Awareness
"Daniel has imagined the unimaginable and in doing so sends readers on a dino thrill ride. I have been talking about this book nonstop! The kids, the dinosaurs, the Civil War, this book is true fire. It is everything I didn't even know I needed." -- Jacqueline Woodson, National Ambassador for Young People's Literature and New York Times bestselling author of Brown Girl Dreaming and Another Brooklyn
"An extraordinary adventure full of heart and imagination that adults will enjoy reading just as much as kids! This is the story that would've made me fall in love with reading when I was a kid." -- Tomi Adeyemi, #1 New York Times bestselling author of Children of Blood and Bone
"In this Tyrexcellent historical realignment -- fast paced, but deceptively packed with amazing detail -- Older's uprising of sheroes and heroes grips, stomps, and soars from start to finish." -- Rita Williams-Garcia, three-time Coretta Scott King Award winner and New York Times bestselling author of One Crazy Summer
"Dactyl Hill Squad is an engaging, lively adventure with a heroine I wish I were, in a world I didn't want to leave." -- Jesmyn Ward, two-time National Book Award-winning author of Sing, Unburied, Sing
"This incredible story brings history to life with power, honesty, and fun." -- Laurie Halse Anderson, New York Times bestselling author of Chains
"A crackling fantasy adventure full of thrilling scenes." -- James McPherson, author of Pulitzer Prize winner Battle Cry of Freedom
"Kids, the Civil War, and dinosaurs -- action doesn't get any better than this!" -- Tamora Pierce, New York Times bestselling author of The Song of the Lioness
"As an historian of New York City, I'm thrilled with Daniel José Older's melding of the best of history and fantasy in Dactyl Hill Squad. I couldn't put it down!" -- Leslie Harris, author of In the Shadow of Slavery
"This action-packed historical fantasy adventure should have wide appeal, leaving fans eager for the next installment. Dino-fueled fun with depth." -- Kirkus Reviews
"Older's rousing mix of actual history and dinosaurs will be irresistible to the upper-elementary and middle-school crowds." -- Booklist
Awards and Praise for Freedom Fire
A Publishers Weekly Best of Summer Reading
"An unforgettable historical, high-octane adventure." -- Dav Pilkey, author-illustrator of the Dog Man series
* "Blisteringly paced, thought-provoking adventure." -- Kirkus Reviews, starred review
* "Intelligent, rousing, and abundantly diverse, this is every bit as satisfying as the first installment." -- Publishers Weekly, starred review
"Older has middle-graders' number with this dino-charged series. Stampedes are likely!" -- Booklist
Praise for Thunder Run
"Older infuses what could have been a basic romp with depth,using a critical social justice lens to examine the past while alsoembedding in it representation that we can aspire to inthe future." --Kirkus Reviews
Awards and Praise for Dactyl Hill Squad
A New York Times Notable Book
An NPR Best Book of the Year
A School Library Journal Best Book of the Year
A New York Public Library Best Book of the Year
A Washington Post Best Book of the Year
A Publishers Weekly Best Book of the Year
"Older fascinatingly blends thunder-lizard thrills with lesser-known but important aspects of American history... Readers will adore Magdalys Roca... Far from a natural hero, Magdalys displays a realistic mix of terror and gumption in the face of the monsters around her, reptilian and human. Where else will her adventures carry her? There's another installment of this mind-bendingly original series coming, sure to be eagerly awaited." -- New York Times Book Review
* "Epic....This high-energy title is perfect for middle graders, with its strong female protagonist, a fresh perspective on history, helpful notes and resources, and an honest portrayal of the complex topics of race and gender." -- School Library Journal, starred review
* "Delightful historical fantasy... Rooted in real events and attitudes, and appended with facts about the time, this fast-paced adventure makes for a memorable tale in which numerous characters of color take the lead." -- Publishers Weekly, starred review
"Dactyl Hill Squad has everything a reader could possibly want in a middle-grade book: action, adventure, magic, humor and dinosaurs. Magdalys is the same kind of young, engaging and flawed protagonist as Philip Pullman's Lyra -- a character readers can't help but love even when (especially because) she's frustrating. An entertaining and wholly fulfilling series opener." -- Shelf Awareness
"Daniel has imagined the unimaginable and in doing so sends readers on a dino thrill ride. I have been talking about this book nonstop! The kids, the dinosaurs, the Civil War, this book is true fire. It is everything I didn't even know I needed." -- Jacqueline Woodson, National Ambassador for Young People's Literature and New York Times bestselling author of Brown Girl Dreaming and Another Brooklyn
"An extraordinary adventure full of heart and imagination that adults will enjoy reading just as much as kids! This is the story that would've made me fall in love with reading when I was a kid." -- Tomi Adeyemi, #1 New York Times bestselling author of Children of Blood and Bone
"In this Tyrexcellent historical realignment -- fast paced, but deceptively packed with amazing detail -- Older's uprising of sheroes and heroes grips, stomps, and soars from start to finish." -- Rita Williams-Garcia, three-time Coretta Scott King Award winner and New York Times bestselling author of One Crazy Summer
"Dactyl Hill Squad is an engaging, lively adventure with a heroine I wish I were, in a world I didn't want to leave." -- Jesmyn Ward, two-time National Book Award-winning author of Sing, Unburied, Sing
"This incredible story brings history to life with power, honesty, and fun." -- Laurie Halse Anderson, New York Times bestselling author of Chains
"A crackling fantasy adventure full of thrilling scenes." -- James McPherson, author of Pulitzer Prize winner Battle Cry of Freedom
"Kids, the Civil War, and dinosaurs -- action doesn't get any better than this!" -- Tamora Pierce, New York Times bestselling author of The Song of the Lioness
"As an historian of New York City, I'm thrilled with Daniel José Older's melding of the best of history and fantasy in Dactyl Hill Squad. I couldn't put it down!" -- Leslie Harris, author of In the Shadow of Slavery
"This action-packed historical fantasy adventure should have wide appeal, leaving fans eager for the next installment. Dino-fueled fun with depth." -- Kirkus Reviews
"Older's rousing mix of actual history and dinosaurs will be irresistible to the upper-elementary and middle-school crowds." -- Booklist
Awards and Praise for Freedom Fire
A Publishers Weekly Best of Summer Reading
"An unforgettable historical, high-octane adventure." -- Dav Pilkey, author-illustrator of the Dog Man series
* "Blisteringly paced, thought-provoking adventure." -- Kirkus Reviews, starred review
* "Intelligent, rousing, and abundantly diverse, this is every bit as satisfying as the first installment." -- Publishers Weekly, starred review
"Older has middle-graders' number with this dino-charged series. Stampedes are likely!" -- Booklist
Praise for Thunder Run
"Older infuses what could have been a basic romp with depth,using a critical social justice lens to examine the past while alsoembedding in it representation that we can aspire to inthe future." --Kirkus Reviews