Game Change (Paperback)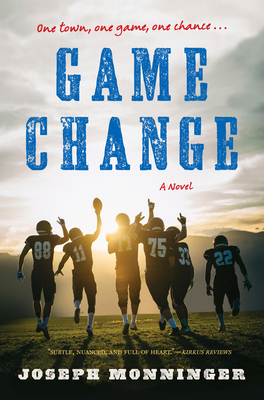 List Price: $15.99
Our Price: $9.99
(Save: $6.00 38%)
Description
---
"Subtle, nuanced, and full of heart" (Kirkus Reviews), this powerful story about football and a boy on the brink of adulthood is perfect for fans of Carl Deuker and Mike Lupica.

Seventeen-year-old Zeb Holloway is happy to work in his uncle's auto repair shop and cruise through school without much effort. He's a quarterback on his high school's undefeated football team, but he never plays. That is, until the star player is injured a week before the state championships.

As Zeb assumes the role of QB and team leader, the entire town is watching him. And when a college recruiter says Zeb could have a future beyond his small New Hampshire town, he realizes there's a bigger life out there for him.

Can one game really change everything? Fate and football collide in this moving sports novel. 
About the Author
---
Joseph Monninger is an English professor and New Hampshire guide. He is the author of the young adult novels Finding Somewhere, Wish, Hippie Chick, and Baby. He also writes fiction and nonfiction for adults. Visit him at joemonninger.com.
Praise For…
---
"A coming-of-age story with the American dream simmering underneath, Monninger's novel will grab the attention of sports fans, even reluctant readers, and Zeb's adjustment to a role outside his comfort zone will resonate with many readers as they navigate their high-school years. . . full of heart and discovery." —Booklist ". . . Monninger heartwarmingly and realistically portrays Zeb and his companions as relatable individuals who do not have the perfect lives. The description of football and the community pressure feel authentic . . .  Recommended for a young adult collection looking for more sports fiction." –SLJ "A coming-of-age story about a teen who gets the first—and only—start of his football career when their star quarterback is badly injured a week before a championship game… Subtle, nuanced, and full of heart."—Kirkus   "Hand this to your sports fans, struggling readers, and those who secretly wish they could be the starting quarterback during the championship game." —School Library Connection Praise for Whippoorwill: * "The narrative adeptly portrays longing and belonging, and the heartbreak and hope of not only the human condition but the canine one as well. Monninger revitalizes the boy-and-dog trope in this sweet novel." —School Library Journal, starred review   * "Narrator Clair is absolutely believable as the girl who's stable yet also negotiating her own loss." —The Bulletin of the Center for Children's Books, starred review "An unexpected, generous and poignant portrait of a girl, a boy, and the dog who brings them together." —Huntley Fitzpatrick, author of What I Thought Was True "Masterful! Heartwarming! I read it in one sitting. I could not put it down. One of the best YA novels I have read in years." —Roland Smith, bestselling author of Peak "Destined to become a classic. . . Whippoorwill is about the love and care and neglect and magical inter-species connections between an animal and members of a family, and it will both devastate and transform you. I love this book." —Luanne Rice, New York Times bestselling author of The Lemon Orchard "A bighearted, gorgeous, timely champion for empathy, kindness, and common courtesy." —Matthew Quick, New York Times bestselling author of The Silver Linings Playbook and Forgive Me, Leonard Peacock "Whippoorwill is an invitation to walk a mile in Wally's paws, and discover that sometimes there are strays of the human variety—and they, too, need love, compassion, and, most importantly, trust." —Jennifer Brown, author of Torn Away "A sweet story about a lucky dog that reveals itself to be a deeper story about a lucky human." —Kirkus "A sweet, melancholy read for those whom a dog holds a special place in their hearts, and who might just wonder: in dog-human relationships, who rescues whom?" —Booklist "Recalls William H. Armstrong's Sounder, Wilson Rawls's Where the Red Fern Grows, and Phyllis Reynolds Naylor's Shiloh. . . [it] will resonate most with animal lovers (I count myself among them), and readers who consider tears signs of a great ending." —The Boston Globe —