Ever the Brave (A Clash of Kingdoms Novel) (Paperback)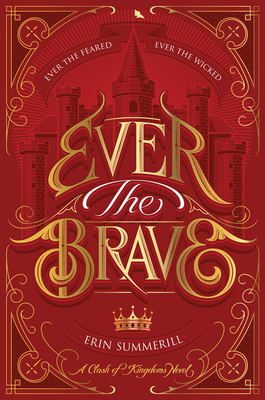 Description
---
The riveting sequel to the romantic fantasy adventure Ever the Hunted, called "absolutely marvelous" by the New York Times best-selling author Sarah J. Maas.

After saving King Aodren with her newfound Channeler powers, Britta dreams of a peaceful life in her childhood home with Cohen. But her powers created an accidental tether between Britta and Aodren, a bond she cannot sever that is pulling her away from the man she loves. Cohen's only desire is to protect Britta from harm. But how can he do that when his hunt for the Channeler responsible for controlling the king prevents him from staying by Britta's side? Aodren has spent a year in the thrall of a manipulative Channeler and must now focus on leading Malam out of the darkness, even though he can't stop thinking about Britta and the bond that draws them together. As Britta, Cohen, and Aodren face the sinister forces that threaten Malam from within and without, Britta learns that there are those who would use her power for evil designs. If she cannot find a way to harness her magical ability, her life—as well as her country—may be lost. The stakes are higher than ever as Britta fights to protect her kingdom and her heart in this thrilling fantasy adventure.
About the Author
---
Erin Summerill was born in England. After spending years bouncing between Air Force bases in Hawaii, England, and California, her family finally settled down in Utah. When Erin doesn't have her nose in a book, she's busy chasing after her four kids, two dogs, and a cat. Visit her online at erinsummerill.com and follow her on Twitter: @erinsummerill.
Praise For…
---
"This will appeal to audiences who enjoy fantasy, themes of good versus evil, and romantic conflicts."--VOYA "Those thrilled by the simmering (yet fairly chaste) romance between Britta and Cohen will be immensely satisfied by the cliff hanger–free ending."--Booklist —