Decision Sprint: The New Way to Innovate Into the Unknown and Move from Strategy to Action (Hardcover)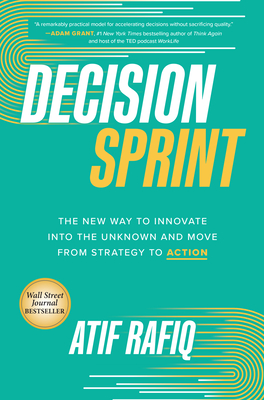 $28.00

Not In Stock - Usually Available in 1-5 Days
Description
---
A Wall Street Journal Bestseller
"Atif has been at the center of Internet and digital disruption for over 20 years, building on 15 years of experience in pure play tech companies such as Amazon, where he led large scale, fast growing digital businesses."--CNBC
Fearlessly delve into the unknown with breakthrough methods to put your company on the path to innovation, creativity, and growth.
It's no secret that steering a business has become dramatically more complex and uncertain in our modern era. Constant exploration of new territory by teams is the name of the game. Yet most companies are stuck with yesterday's approach to problem solving. Problem solving needs to be reinvented to meet today's challenges. The future of business depends on it.
Having reached the highest levels of the Fortune 500, digital disrupter Atif Rafiq has written Decision Sprint to pull the curtain back on the hidden management systems within your organization that impact how people think, collaborate, and make decisions.
Talent is vital to any company's advancement, but it's the collaboration and problem solving systems that separate industry leaders from the rest. Systems designed to embrace unknowns are the quickest, most enduring way to foster growth, continuous innovation, and results. Learn how teams begin with upstream work--the phase of a promising idea or initiative where the unknowns predominate--to problem solve anything, thus unlocking downstream actions from alignment to decision making to execution.
With Rafiq's guidance, you'll overtake your competitors by moving upstream, embracing workflows that convert unknowns to clear recommendations, alignment, and action. In addition, you'll receive direct advice from the CEOs/presidents of H&R Block, Volvo, Peacock, Restaurant Brands, Orange Theory Fitness, among others--and learn from in-depth case studies such as Amazon's disruption of publishing, the massive digital transformation of McDonald's, the secret of launch of Apple Pay, Volvo's push for sustainability, and more.
Don't just be ready for the next frontier of business, be continuously ready for the unknowns with Decision Sprint.