Red, White & Royal Blue: A Novel (Hardcover)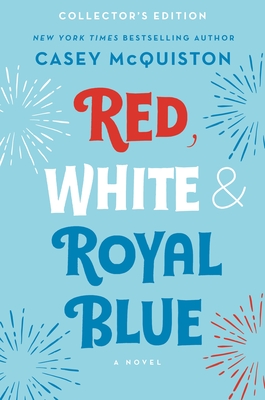 Staff Reviews
---
I love this book so much! It is so cute and so happy. I love that it isn't a crazy dramatic book, but instead a cute and fluffy romance. I love Alex and Henry as characters, and I love seeing the progression going from enemies to friends, and then eventually to lovers. This is one of the best romances that I have ever read, and I look forward to the author's other future novels!
— Anna
RED, WHITE, AND ROYAL BLUE is by definition a romance, hitting all the plot points in the formula up to and including the inevitable happily-ever-after, but there is a depth to this romance that makes the story stand out. Heavy issues of today, fantastic family relationships, and a truly wonderful queer romance combine into a funny and warmhearted read that will have you laughing and crying but always feeling good. Read this book and smile!
— Marielle
Red, White and Royal Blue is a phenomenal enemies to fake-friends to lovers romance between the First Son of the United States Alex and Prince Henry of England. This truly is a special story, with a plot that will keep you invested the whole way through, to the cinnamon-roll main characters and the supportive camrades that guide them. One of my favorite couples of all time, this LGBT love story won't leave a single dry eye in the house.
— Rachele
June 2019 Indie Next List
---
"Fresh, irreverent, and funny, Red, White & Royal Blue is a delight and a treasure. With subtle jabs, Casey McQuiston pokes fun at both the public face of the British monarchy as well as the back-door politicking that dominates the U.S. political scene. The story follows the self-centered Alex Claremont-Diaz (America's First Son) and his interactions with British Prince Henry of Wales. As hostility increases between two political scions forced into a sham friendship, we see the framework of political destiny and duty begin to fray. Little by little, hostility turns to something else entirely. This is a story about happiness — and, more importantly, honesty — for those who live their lives in the public eye."
— Todd Ketcham, The Book Cellar, Lake Worth, FL
Description
---
The special Collector's Edition of Casey McQuiston's beloved New York Times bestselling novel, featuring illustrated endpapers, an all new Henry-POV chapter, and more!

What happens when America's First Son falls in love with the Prince of Wales?

When his mother became President, Alex Claremont-Diaz was promptly cast as the American equivalent of a young royal. Handsome, charismatic, genius—his image is pure millennial-marketing gold for the White House. There's only one problem: Alex has a beef with the actual prince, Henry, across the pond. And when the tabloids get hold of a photo involving an Alex-Henry altercation, U.S./British relations take a turn for the worse.

Heads of family, state, and other handlers devise a plan for damage control: staging a truce between the two rivals. What at first begins as a fake, Instragramable friendship grows deeper, and more dangerous, than either Alex or Henry could have imagined. Soon Alex finds himself hurtling into a secret romance with a surprisingly unstuffy Henry that could derail the campaign and upend two nations.

Casey McQuiston's Red, White & Royal Blue proves: true love isn't always diplomatic.
About the Author
---
CASEY MCQUISTON is the New York Times bestselling author of One Last Stop, Red, White & Royal Blue, and I Kissed Shara Wheeler, as well as a pie enthusiast. Born and raised in southern Louisiana, Casey now lives in New York City with Pepper, a poodle mix and semipro personal assistant.
Praise For…
---
* Instant NEW YORK TIMES and USA TODAY bestseller *
* GOODREADS CHOICE AWARD WINNER for BEST DEBUT and BEST ROMANCE of 2019 *
* 2020 Alex Award Winner *

A Vogue Best Novel of 2019
A Vanity Fair Best Book of 2019
One of NPR's Favorite Books of 2019
One of Entertainment Weekly's Top Ten Romance Novels of 2019
A BookPage Best of the Year
A Kirkus Best Book of 2019
A Library Journal Best Romance of 2019
A Shelf Awareness Best of the Year
A She Reads Best Romance of 2019

"[An] exquisite debut... It's hard to watch [Alex] fall in love with Henry without falling in love a bit yourself — with them, and with this brilliant, wonderful book." - The New York Times Book Review

"[A] fireworks in the sky, glitter in your hair joyous royal romance that you'll want to fall head over heels in love with again and again. A+" - Entertainment Weekly

"A rivalry between the son of a U.S. president and the Prince of Wales turns into a whirlwind romance in this charming story about true love." - Us Weekly

"[An] escapist masterpiece... It's a truly glorious thing to live inside the world of this book and to imagine it becoming reality, too." - Vogue

"The super specific love story you never knew you needed." - Cosmopolitan

"Effervescent and empowering on all levels, Red, White & Royal Blue is both a well-written love story and a celebration of identity. McQuiston may not be royal herself, but her novel reigns as must read rom-com." - NPR

"In between sweet and steamy love scenes, Red, White & Royal Blue allows readers to imagine a world where coming out involves no self-loathing; where fan fiction and activist Twitter do actual good; and a diverse, liberal White House wins elections. This Blue Wave fantasy could be the feel-good book of the summer." - Booklist, Starred Review

"The much-loved royal romance genre gets a fun and refreshing update in McQuiston's debut... The love affair between Alex and Henry is intense and romantic, made all the more so by the inclusion of their poetic emails that manage to be both funny and steamy. A clever, romantic, sexy love story." - Kirkus, Starred Review

"With a diverse cast of characters, quick-witted dialog, and a complicated relationship between to young people with the eyes of the world watching their every move, McQuiston's debut is an irresistible, hopeful, and sexy romantic comedy that considers real questions about personal and public responsibility." - Library Journal, Starred Review

"[An] outstanding debut… with quick wit and clever plotting. The drama, which involves political rivals, possible betrayals, and even a meeting with the queen, is both irresistible and delicious. Readers will be eager to see more from McQuiston." – Publishers Weekly, Starred Review

"Red, White & Royal Blue is funny and fun, and the family and political dynamics feel spot-on, but it's the frank and unforgettable romance between these two young men that will compel readers to start it all over again when faced with the last page. It's that hard to say goodbye to this couple." - BookPage, Top Pick

OPRAHMAG.COM, "The 27 Greatest Romance Novels to Read In Your Lifetime"

POPSUGAR, "30 Must-Read Books of 2019"

BUSTLE, "21 New Romance Novels To Make Your Spring Reading Even Dreamier Than You Imagined"

SHE READS, "Most Anticipated Romances of 2019"

BUZZFEED, "19 Books Coming Out This Year That You Seriously Need To Read"

HARPER'S BAZAAR, "20 Best LGBTQ Books of 2019"

HELLOGIGGLES, "Best New Books to Read in May"

HYPABLE, "Spring 2019 Releases That Need To Be On Your Radar"

REFINERY29, "Best Books of May 2019"

BOOKRIOT, "Best Books We Read in November" / "Love Is In The Air: 51 New Romance Novels Scheduled for 2019" / "Most Anticipated 2019 LGBTQ Reads" / "Most Anticipated Books of 2019" / "50 Must-Reads Books by Debut authors for January – June 2019"

BOOKPAGE, "2019 Preview: Most Anticipated Romance"

PUBLISHERS WEEKLY, "Best Romances of 2019"

GOODREADS, "The Best Romance Books of May"

PARADE, "The Most Anticipated Books of Summer 2019"

BOOKBUB, "The Best Romance Books Coming in 2019"

ALL ABOUT ROMANCE, "Books We're Most Looking Forward to Reading This Year"

CHATELAINE MAGAZINE, "Best Romance Books 2019"

DAZED MAGAZINE, "Eight Romance Novels That Are Subverting The Genre In 2019"

FOREVER YOUNG ADULT, "Most Anticipated Books of 2019"

NEW YORK PUBLIC LIBRARY, "Best of Romance 2019"

"Let this heartwarmingly romantic tale—about the son of an American president falling in love with the prince of Wales—be a balm for your political and cultural cynicism." - Oprahmag.com

"It's the ideal summer read, one that melds the hilarious crass-mouthed sarcasm of HBO's VEEP with supremely steamy scenes." - Bustle

"It's moving, it's relevant, it's OH-SO romantic..." - Natasha is a Book Junkie

"Royal watchers, prepare yourselves, because this LGBTQ+ romance is destined to leave you swooning." – Pop Sugar

"Casey McQuiston dazzles with Red, White & Royal Blue. Passion characterizes every moment of this smart, mischievous, gratifying and sensitive novel." - Shelf Awareness

"This is romance at its purest, carrying the reader away on a warm, funny journey... a vision of humanity at its finest." - Dazed

"This is an enemies-to-lovers romance that will give you all the feels! You won't want to miss this one – it's been a favorite of mine this year." - She Reads

"Casey McQuiston reboots the royal romance with a joyful, clever, quick-witted and totally irresistible debut." - Vilma Iris

"I took this with me wherever I went and stole every second I had to read! Absorbing, hilarious, tender, sexy—this book had everything I crave. I'm jealous of all the readers out there who still get to experience Red, White & Royal Blue for the first time!" - Christina Lauren, New York Times bestselling author of The Unhoneymooners

"Red, White & Royal Blue is outrageously fun. It is romantic, sexy, witty, and thrilling. I loved every second." - Taylor Jenkins Reid, New York Times bestselling author of Daisy Jones & The Six

"I tore through Red, White & Royal Blue as if it were a pint of Ben & Jerry's. By turns hilarious and angst-ridden, buoyant and strikingly real, this novel is a surefire bull's-eye for any devotee of classic romance, slow burn fanfiction, or heartfelt storytelling. A political love story too timely and too genuine to miss." - Lyndsay Faye, internationally bestselling author of Jane Steele and The Gods of Gotham

"This book is like that perfect dessert you allow yourself only on the really good or really bad days. And I loved every deliciously satiating page of it." - Julia Whelan, author of My Oxford Year