One Year at Ellsmere (Paperback)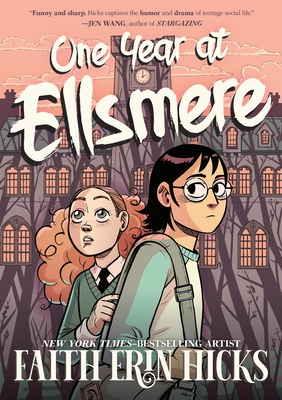 Staff Reviews
---
I love stories at boarding schools with dark histories and surrounded by woods full of mystery and magic and that is this one to a T! Juniper and Cassie are a totally awesome duo who you'll want to follow anywhere as their year at Ellsmere goes from dealing with school work and normal bullies, to getting sucked into a dark, hidden secret in their school's past that may not be as long gone as everyone thinks. With drawings that seem to leap off the page and words that weave a wonderful story around them, ONE YEAR AT ELLSMERE is one great read!
— Marielle
This atmospheric boarding school story has it all—a creepy setting, a mysterious history, an endearing friendship, and snooty villains. You'll cheer the main character Juniper on as she navigates through her bumpy first year at Ellsmere Academy with the help of her quirky and friendly roommate Cassie. Previously published in 2008 as THE WAR AT ELLSMERE, this new edition is more colorful as it has been redrawn, reimagined, and reinked.
— Jennifer
Description
---
With revamped art and now in full color, One Year at Ellsmere is an endearing—and surprising—middle-grade friendship story from beloved author Faith Erin Hicks!

Was boarding school supposed to be this hard?

When studious thirteen-year-old Juniper wins a scholarship to the prestigious Ellsmere Academy, she expects to find a scholastic utopia. But living at Ellsmere is far from ideal: She is labeled a "special project," Ellsmere's queen bee is out to destroy her, and it's rumored that a mythical beast roams the forest next to the school.
About the Author
---
Faith Erin Hicks is a writer and artist who lives in Vancouver, Canada. Her published works include Friends with Boys, The Adventures of Superhero Girl, The Last of Us: American Dreams (with Neil Druckmann), The Nameless City trilogy, Comics Will Break Your Heart, and the New York Times bestselling Pumpkinheads (with Rainbow Rowell).
Praise For…
---
"Hicks's varied panel sizes control pacing effectively, while her muted palette gives the castle-like school an archaic feel."—Horn Book

"Panels are broken out to capitalize on specific moments, creating a variety of impactful emotional beats: sardonic retorts, profound loneliness, smug satisfaction, and doe-eyed vulnerability. Previously published in black-and-white, this edition sports updated line art and solid color work by Shelli Paroline that subtly enhances Hicks's original art."—Publisher's Weekly