Where Dreams Descend: A Novel (Kingdom of Cards #1) (Hardcover)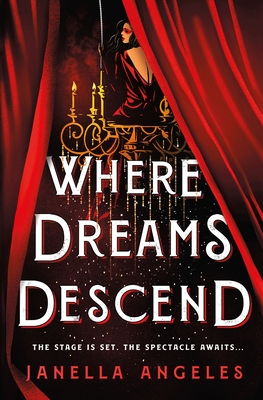 Other Books in Series
This is book number 1 in the Kingdom of Cards series.
Staff Reviews
---
This book is amazing and exquisitely written. With a writing style reminiscent of V.E. Schwab, lush and sensory details are layered throughout bringing each place, each person, each part of the story to vivid vibrant life. Beautifully worded sentences and cleverly constructed similes dot the pages, adding the flair of a live stage performance to every nook and cranny of the book. The story itself is a haunting tale full of magic, mystery, and suspense that keeps you guessing and will have you lusting after the next book in the series. With a full sensory experience, exciting magical moments, and a strange intricate love triangle I am still trying to piece together, Janella Angeles delivers a heart-pounding story that I absolutely need the sequel to.
— Marielle
This book is truly magical in all of the senses. It follows a born magician named Kallia as she leaves all that she has known behind to travel to a formerly forbidden (to her) city. She auditions for a magic show as a chance for her to prove her worth. It won't be easy for many reasons. One being that she is a woman in a male-dominated world, and magicians who are women are not seen as highly as men. Another reason being that she has spent her whole life with Jack, the master of Hellfire House, and another more powerful magician. Jack is hiding many secrets of his own and we learn them when Kallia does, and little by little through his own narrative. This book was gripping from the start, and really pulled me in immediately. The lush descriptions of everything really paints a unique world. Kallia is truly one of the strongest female characters I have ever read about, and I'm thoroughly excited to see where this series will go. It reminds me of all of the parts I liked about The Night Circus, but with a much more fast-paced plot.
— Anna
Where Dreams Descend is the best sort of fantasy - one that immediately pulls you in and makes you want to inhabit the world right along with the characters. With the perfect balance of intrigue and fantastical world building, I wouldn't hesitate to follow Kallia to the ends of the earth if it meant I could spend more time in the world of this wonderful book!
— Sarah
Fall 2020 Kids Indie Next List
---
"Moulin Rouge meets Phantom of the Opera in this stunning debut by Janella Angeles. Filled with wonder, sultry performances, and dark mysteries, this book had me on the edge of my seat. I cannot stress enough how fun and dark this one was! This book, with its show-stopping magic, secrets galore, and an unsolved mystery, is not one to miss!"
— Haley Calvin, Neighborhood Reads, Washington, MO
Description
---
"Vibrant imagery, jaw-dropping set pieces, sizzling romantic tension, and unstoppable heroine Kallia bring this ambitious debut novel to spectacular life. Fans of Caraval and The Night Circus will be delighted!" - Claire Legrand, New York Times bestselling author of Furyborn

In a city covered in ice and ruin, a group of magicians face off in a daring game of magical feats to find the next headliner of the Conquering Circus, only to find themselves under the threat of an unseen danger striking behind the scenes.

As each act becomes more and more risky and the number of missing magicians piles up, three are forced to reckon with their secrets before the darkness comes for them next.

The Star: Kallia, a powerful showgirl out to prove she's the best no matter the cost

The Master: Jack, the enigmatic keeper of the club, and more than one lie told

The Magician: Demarco, the brooding judge with a dark past he can no longer hide

Where Dreams Descend is the startling and romantic first book in Janella Angeles' debut Kingdom of Cards fantasy duology where magic is both celebrated and feared, and no heart is left unscathed.

"[A] spellbinding melody of a book, and the true magic is how Angeles puts all the best parts of an enrapturing theatrical performance onto paper and ink. From the gripping twists in the first pages all the way to the final, heartbreaking crescendo, Where Dreams Descend will surge you to your feet in a standing ovation." – Sara Raasch, New York Times bestselling author of the Snow Like Ashes trilogy
About the Author
---
JANELLA ANGELES is the Filipino-American bestselling author of Where Dreams Descend. She got her start in writing through consuming glorious amounts of fanfiction at a young age—which eventually led to creating original stories of her own. She currently resides in Massachusetts where she works in the business of publishing books on top of writing them, and is most likely to be found listening to musicals on repeat while daydreaming too much for her own good.
Praise For…
---
BOOKISH, "Ten 2020 Debut Novels You Won't Want to Put Down"

BOOK RIOT, "8 of The Best Magical Cities in YA Books"

BUSINESS INSIDER, "The 33 best new books to read this spring - according to Goodreads"

BUSTLE, "23 Debut Books That Are Too Good To Ignore"

BUZZFEED, "29 YA Fantasy Books We Can't Wait To Read In 2020"

CULTURESS, "20 upcoming YA books we can't wait to read in 2020"

EPIC READS, "26 YA Retellings That You Should Be Looking Forward to in 2020"

GOODREADS, "The 38 Most Anticipated YA Novels of 2020"

KIRKUS, "Best YA Fantasy and Science Fiction of 2020"

THE NERD DAILY, "The Most Anticipated 2020 Book Releases" and "20 SFF YA Debuts To Watch Out For In 2020"

POPSUGAR, "27 Exciting Debut Authors You Can Support During the Shutdowns"

ASIAN JOURNAL, "Anticipated 2020 book releases by Filipino & Fil-Am authors"

SYFY.COM, "Eight YA SFF Reads To Pick Up In August"

THE YOUNG FOLKS, "10 Spring 2020 Reads That Prove Books and Music Go Hand-In-Hand"

"A lush, captivating blend of The Phantom of the Opera and fresh, new magic. ...As the romantic tension ratchets up, so deepen the mysteries. Readers will ache for the next installment." - KIRKUS (Starred Review)

"Readers will find themselves quickly immersed in this quirky, well-paced tale of danger, adventure, and magic. The enigmatic ending reassures fans that the mysteries have answers that are yet to be discovered, and that there is more to come in the second part of this Kingdom of Cards duology. Give this to those who enjoyed Cole's Arcana Chronicles or Powell's Game of Triumphs twosome." - BOOKLIST

"Formidable female characters and spectacular set pieces mark this ambitious series launch from debut author Angeles." - PUBLISHERS WEEKLY

"Angeles's deep commitment to world-building means that this debut novel has atmosphere galore. It's lush and amazing at every turn, with fire, smoke, mirrors, costumes, and more." - SCHOOL LIBRARY JOURNAL

"Perfect for fans of Moulin Rouge and The Phantom of the Opera, Angeles' debut is spectacular, spectacular!" - BUZZFEED

"If you're looking for a spectacle of a read, look no further than Where Dreams Descend, which is so atmospheric you will feel like your world is sparkling." - BITCH MEDIA, 25 YA Novels Feminists Should Read in 2020

"A lush tale of love, lies, and magic – and one of the most memorable YA fantasies you'll read this year." - CULTURESS

"This is an intricate love song between the book and the reader, one expertly composed by a phenomenal author. Not only does Janella Angeles seamlessly weave together a fantasy where illusions seem to have more power than reality itself, but she executes each scene with the grace of a dancer gliding across the stage." - THE NERD DAILY

"The perfect summer fantasy read." - POPSUGAR

"An absolute success. ...It met every expectation and more. This story was unbelievable and so much fun to read." - YA BOOKS CENTRAL

"A sweeping, atmospheric debut, Where Dreams Descend by Janella Angeles is perfect for fans of Caraval." - THE YOUNG FOLKS

"Janella Angeles steals the 2020 show with her fiercely imagined debut starring larger than life characters, a dangerous world alive with magic, and a dizzying dose of grab-a-fainting-couch-and-swoon-away romance!" - Roshani Chokshi, New York Times bestselling author of The Gilded Wolves

"Where Dreams Descend is a glamorous dark gem of a tale, sparkling with romance, magic, and intrigue. Readers will be captivated by prima donna Kallia as the mystery is slowly unmasked. Bravissima!" - Julie C. Dao, author of Forest of a Thousand Lanterns

"Vibrant imagery, jaw-dropping set pieces, sizzling romantic tension, and unstoppable heroine Kallia bring this ambitious debut novel to spectacular life. Fans of Caraval and The Night Circus will be delighted!" - Claire Legrand, New York Times bestselling author of Furyborn

"[A] spellbinding melody of a book, and the true magic is how Angeles puts all the best parts of an enrapturing theatrical performance onto paper and ink. From the gripping twists in the first pages all the way to the final, heartbreaking crescendo, Where Dreams Descend will surge you to your feet in a standing ovation." – Sara Raasch, New York Times bestselling author of the Snow Like Ashes trilogy