The Power of Quiet: An Inspirational Journal for Introverts (Paperback)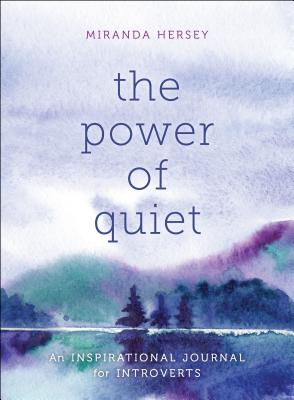 Staff Reviews
---
The Power of Quiet was one on the four journals I used over quarantine and I have to say its one of the best journals I've owned. Containing daily exercises that focus on both developing and challenging everyone's inner introvert, The Power of Quiet has allowed me to discover more about how I work, why I think the way I do, and helped me fall in love with a part of myself I've always seen as somewhat troublesome. If you're looking to find a bit more inner peace in this age of what seems to be weekly conflicts, this book may just help you on your journey to tomorrow's you.
— Christopher
Description
---
A perfect gift encouraging us all to cherish our inner introvert, The Power of Quiet is a notebook for taking a step back, quelling the chaos, and embracing your creativity!
Spending quality time alone can help you recharge your batteries, excavate your true feelings, and enrich your everyday experience. This journal celebrates the importance of shutting out the chaos and taking time to reflect. Through a series of creative journaling prompts, Miranda Hersey's The Power of Quiet will take you on a pleasant and restorative journey of self-discovery.
• Over 100 questions to fill your days with quiet solitude and reflection.
• Encourages self-discovery and the celebration of your most introverted qualities.
• Creative exercises and engaging art help to inspire your natural creativity.
About the Author
---
Miranda Hersey is a writer, editor, and certified creativity coach. As a business owner and the mother of five, Miranda is passionate about helping others live deeply satisfying, creative lives. Her work has appeared in the Boston Globe, Boston Globe Magazine, Sun Magazine, and Bay Area Parent, among other publications. A dual national of Britain and the US, in 2014 Miranda moved from Boston, Massachusetts, to Bainbridge Island, Washington, where she is happily overrun with books, people, and animals. She is the author of Life by Design.