Check, Please! Book 1: # Hockey (Paperback)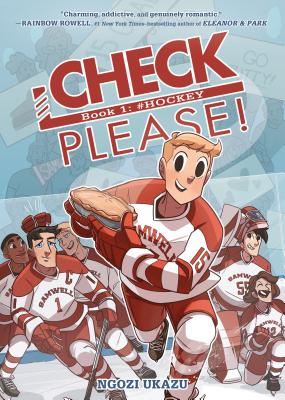 Other Books in Series
This is book number 1 in the Check, Please! series.
Staff Reviews
---
Bitty, the protagonist of Check Please (full name Eric Richard Bittle,) is an absolutely darling. He loves baking and hockey, but comes to the sport by way of competitive figure skating and he's terrified of being checked (where another hockey player slams into you, something that happens all the time in the contact sport of ice hockey.)
As he grows into his role on a university ice hockey team, he discovers more about himself, and the players on the team, particularly what a tight knit brotherhood they have – they always have each other's backs. The pacing is incredibly quick, 200 and change pages covers both Bitty's freshman and sophomore years of university. Bitty, Jack, and the other hockey players are incredibly well developed – I felt that it was the best ensemble graphic novel character cast I'd seen since Giant Days and I couldn't have been more delighted by how the first graphic novel ends, character wise.
— Sarah
Description
---
Eric Bittle may be a former junior figure skating champion, vlogger extraordinaire, and very talented amateur pâtissier, but being a freshman on the Samwell University hockey team is a whole new challenge. It is nothing like co-ed club hockey back in Georgia! First of all? There's checking (anything that hinders the player with possession of the puck, ranging from a stick check all the way to a physical sweep). And then, there is Jack—his very attractive but moody captain.

A collection of the first half, freshmen and sophomore year, of the megapopular webcomic series of the same name, Check, Please!: #Hockey is the first book of a hilarious and stirring two-volume coming-of-age story about hockey, bros, and trying to find yourself during the best four years of your life. This book includes updated art and a hilarious, curated selection of Bitty's beloved tweets.
About the Author
---
Ngozi Ukazu is the creator of Check, Please, an online graphic novel whose printing campaign remains the most funded webcomics Kickstarter ever. She graduated from Yale University in 2013 with a degree in Computing and The Arts, and received a masters in Sequential Art in 2015 from the Savannah College of Art and Design. She first became interested in hockey while writing a screenplay about the sport during her senior year at Yale. But after Yale hockey won the Division I Men's Ice Hockey national championship, she became obsessed. While she used her new-found knowledge of ice hockey to launch Check, Please in 2013, Ngozi has a deep interest in sports that ranges from half-marathon training to basketball documentaries. Ngozi also cites 90's sitcoms as a major influence in the quirky, found-family feel of Check, Please.
Praise For…
---
A Boston Globe Best YA Book of 2018
YALSA William C. Morris 2018 Finalist

"Check, Please! is very much a thing of our time in its approach to gay identity and romance... There's no big coming-out scene, no 'convert the lone homophobe' drama, no storyline cooked up just to educate the reader about the gay experience. Bitty doesn't need any of that, and Ukazu gives the reader credit for not needing it either." —NPR

"Check, Please — an endlessly delightful web comic about hockey, baking, and bros." —Den of Geek

"Check Please! is the perfect reminder of the growth in queer narratives we've gotten in the past few years...filled with cute romance, zero toxic masculinity, and a really great sense of male comradery that's refreshing to read." — The Mary Sue

"Ukazu, who began Bitty's story as an uberpopular webcomic, folds in plenty of hockey terms and highlights team camaraderie while skillfully dismantling themes of toxic masculinity…A slow-burn same-sex romance is just the icing on the cake (sorry—pie) in this irresistibly fun and utterly charming sports story. Volume two can't come fast enough" —Booklist, starred review

"This is a warm story with an irresistible protagonist, a clever supporting cast, and lively and plentiful game and practice scenes... A fun and deeply satisfying read for teens." —Kirkus Reviews, starred review

"The art relies on thick linework and facial shots to tell the story, playing to Ukazu's knack for pithy, personality-showing dialogue. Ukazu blends a series of tropes (coming-of-age, coming out, an outsider finding acceptance) into one coherent, amusing tale." —Publishers Weekly