The Last Painting of Sara de Vos: A Novel (Paperback)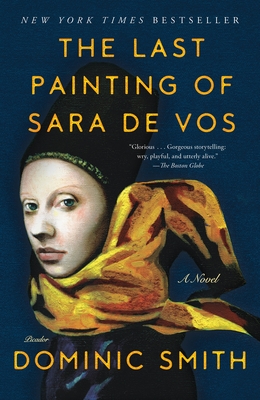 Staff Reviews
---
If you like art and you like mysteries, this is your book! Dominic Smith does a remarkable job telling this story from different vantage points and three different periods of time. He tells the story of a painting and its creator, painted in 1636 by Sara de Vos as a memorial to her daughter, Kathrijn, who died of the plague at the age of 7. The painting is stolen from the home of Marty de Groot and replaced with a forgery, painted by Ellie Shipley. The stories of all 3 characters collide when the original painting and its fake, and Marty and Ellie, show up at a gallery exhibit. A true masterpiece of a book!
— Mary
April 2016 Indie Next List
---
"Smith's new novel unfolds slowly, and each moment of illumination offers a glimpse into the true heart of this quiet, captivating tale. Spanning more than three centuries, it is the story of three lives --a female master painter of the Dutch Golden Age, a moneyed New York patent attorney, and an art history student turned one-time art forger -- each changed by one haunting painting. Filled with hurt, grief, and deceit, but also layered with love, grace, and regret, The Last Painting of Sara de Vos is a wonderful read, beautifully written."
— Heather Duncan (M), Tattered Cover Book Store, Denver, CO
Description
---
Amsterdam, 1631: Sara de Vos becomes the first woman to be admitted as a master painter to the city's Guild of St. Luke. Though women do not paint landscapes (they are generally restricted to indoor subjects), a wintry outdoor scene haunts Sara: She cannot shake the image of a young girl from a nearby village, standing alone beside a silver birch at dusk, staring out at a group of skaters on the frozen river below. Defying the expectations of her time, she decides to paint it.

New York City, 1957: The only known surviving work of Sara de Vos, At the Edge of a Wood, hangs in the bedroom of a wealthy Manhattan lawyer, Marty de Groot, a descendant of the original owner. It is a beautiful but comfortless landscape. The lawyer's marriage is prominent but comfortless, too. When a struggling art history grad student, Ellie Shipley, agrees to forge the painting for a dubious art dealer, she finds herself entangled with its owner in ways no one could predict.

Sydney, 2000: Now a celebrated art historian and curator, Ellie Shipley is mounting an exhibition in her field of specialization: female painters of the Dutch Golden Age. When it becomes apparent that both the original At the Edge of a Wood and her forgery are en route to her museum, the life she has carefully constructed threatens to unravel entirely and irrevocably.
About the Author
---
Dominic Smith grew up in Australia and now lives in Seattle, WA. He's the author of the novels: The Last Painting of Sara de Vos, Bright and Distant Shores, The Beautiful Miscellaneous, and The Mercury Visions of Louis Daguerre. His short fiction has been nominated for a Pushcart Prize and has appeared widely, including in The Atlantic, Texas Monthly, and the Chicago Tribune's Printers Row Journal. He has been a recipient of a Literature Grant from the Australia Council for the Arts, a Dobie Paisano Fellowship, and a Michener Fellowship.
Praise For…
---
"An elegant page-turner." —The New York Times Book Review

"Lustrous . . . skillful plotting and effortless prose . . . meticulously documents not only artists' products but also their tools and labor." —Chicago Tribune

"The genius of Smith's book is not just the caper plot but also the interweaving of three alternating timelines and locations to tell a wider, suspenseful story of one painting's rippling impact on three people over multiple centuries and locations." —Ian Shapira, Washington Post

"Gorgeous storytelling: wry, playful, and utterly alive." —The Boston Globe

"Rapturous . . . incandescent." —San Francisco Chronicle

"This beautiful meditation on love, loss and art is as luminous as a Vermeer." —People

"Equal parts suspense tale and exploration of beauty and loss, this vivid novel charts the journey of one 17th-century Dutch painting as it passes through time, nations, and the lives of all who touch it." —O, The Oprah Magazine

"The Last Painting of Sara de Vos does what the best books can do: sweep the reader into unfamiliar worlds filled with intriguing characters . . . [a] true pleasure to read." —Bookpage

"Audacious . . . absolutely transporting." —Maureen Corrigan, NPR

"Art fans and historical fiction fans, this one's for you . . . Get ready to be blown away." —Bustle

". . . a sublime tale of one woman's lost art, another woman's tragic mistake, and a privileged man's link between the two . . . There's a lovely, genteel beauty here." —Dallas Morning News

"Lovely, quietly resonant . . . Smith [has a] singular gift for conjuring distant histories." —Entertainment Weekly

"Laced with subtle tension and emotion . . . Smith's novel illustrates why art remains a powerful force, both for those who create it and those who view it." —Paste Magazine

"A beautiful, patient, and timeless book, one that builds upon centuries and shows how the smallest choices—like the chosen mix for yellow paint—can be the definitive markings of an entire life." —Kirkus (starred review)

"Just as a painter may utilize thousands of fine brushstrokes, Smith slowly creates a masterly, multilayered story that will dazzle readers of fine historical fiction." —Library Journal (starred review)

"An outstanding achievement, filled with flawed and fascinating characters." —Booklist (starred review)

". . . a deeply researched, beautifully written, intellectually absorbing novel that also has the qualities of a page-turner . . . From the opening pages you know you are in the hands of a writer at the top of his game." —The Australian

"Gliding gracefully from grungy 1950s Brooklyn to the lucent interiors of Golden Age Holland and the sun-splashed streets of contemporary Sydney, the novel links the lives of two troubled, enigmatic, and hugely talented young women, one of them an artist, the other, her forger. A page-turning book with much to say about the pain and exhilaration of art and life." —Geraldine Brooks, author of The Secret Chord

"The Last Painting of Sara de Vos is a story told in layers of light. From afar, this novel is so beautiful, the prose so clear and vivid, that it seems effortless; on closer examination, one sees the rich thematic palette Dominic Smith has used. This is a novel of love and longing, of authenticity and ethical shadows, and, most compelling, of art as alchemy, the way that it can turn grief to profound beauty." —Lauren Groff, author of Fates and Furies and The New York Times-bestselling Arcadia

"As this story of art, beauty, deception, and the harshest kinds of loss ranged over continents and centuries, I was completely transfixed by the sense of unfolding revelation. The Last Painting of Sara de Vos is, quite simply, one of the best novels I have ever read, and as close to perfect as any book I'm likely to encounter in my reading life. One of those rare books I'll return to again and again in the coming years." —Ben Fountain, author of Billy Lynn's Long Halftime Walk, a National Book Award finalist

"In The Last Painting of Sara de Vos, Dominic Smith moves effortlessly between his seventeenth century artist and those who fall under the spell of her work more than three hundred years later. Smith is a writer of huge gifts and his descriptions of the painting and of those who fall in love with it (and with each other) are rendered with wondrous intelligence and keen wit. The result is a novel of surprising beauty and piercing suspense. I couldn't stop turning the pages even while the last thing I wanted was to reach the end." —Margot Livesey, author of The Flight of Gemma Hardy