Florence Foster Jenkins: The biography that inspired the critically-acclaimed film (Paperback)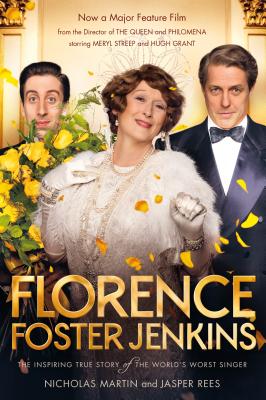 Description
---
She was a woman with a dream. Nobody believed in her talent. But nothing could stop her. . .
This is the true story of
FLORENCE FOSTER JENKINS
Now the basis of a major motion picture starring Academy Award--winning actress Meryl Streep
She had no pitch, no rhythm, and no tone. Still, Florence Foster Jenkins (Streep) became one of America's best-known sopranos. Born in 1868, Florence was a talented young pianist whose wealthy father refused to let her continue her musical studies in Europe. In retaliation, Florence eloped with Dr. Frank Jenkins, a man twice her age, and moved to New York. But when her father died and left her a large sum of money, Florence finally had a chance to pursue her one true passion: Singing. But first she would have to learn how to become a great singer.
Years of lessons and a chance meeting with St. Clair Bayfield (Hugh Grant), who would become her manager and common-law husband, would help launch Florence's career and entry into New York's prestigious classical musical societies, culminating in her giving a recital, at the age of seventy-six, at Carnegie Hall. This is story of a woman who was not afraid to recreate herself into the person she wished to become—and achieve her own version of the American Dream.
About the Author
---
Nicholas Martin has worked as a croupier, a labourer, a bouncer and a barman. In his early twenties he worked at sea as a deck hand and later as a yacht captain. He then worked as a journalist and travel writer, contributing to The Sunday Times, the Guardian and various magazines, before becoming a screenwriter, graduating from the National Film and Television School in 1992. He lives in London.

Jasper Rees has been a journalist since 1988. He has written over the years for most broadsheets, but principally the Daily Telegraph, Independent, Evening Standard and The Times Saturday Magazine. He has also written for Vogue, Harper's, Radio Times and GQ. He is the author of two books, Bred of Heaven: One Man's Quest to Reclaim his Welsh Roots and I Found My Horn: One Man's Struggle With The Orchestra's Most Difficult Instrument. He lives in London.