Critter Clatter: Rhymes and Chatter (Hardcover)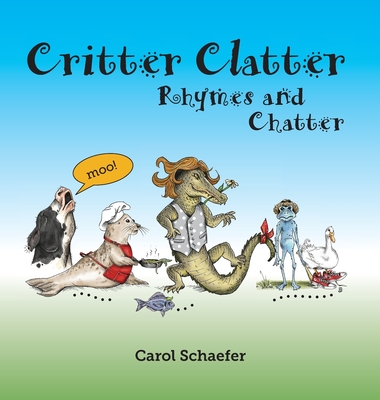 $15.95

Not In Stock - Usually Available in 1-5 Days
Description
---
Critter Clatter: Rhymes and Chatter by author Carol Schaefer is a collection of poems and verses to entertain children
and the adults who read with them. It is a fun-filled book of rhymes that will quickly catch and inspire a child's
imagination. The author skillfully draws you into the escapades of all kinds of critters, including frogs, a duck,
a cow, a pair of goats, an owl, and even a flower that will capture your heart. She has also tucked in some subtle
life lessons along the way. Enchanting colorful illustrations by Erin Ann Jensen make the characters come to life
while clever words simply dance off the page. It is best read aloud while wearing jammies and robes and curled
up together on a soft, comfy sofa.
Edited by Patricia Entwistle, Boise, Idaho.
Illustrations copyright by Erin Ann Jensen, Vancouver, Washington. No illustration may be reproduced in any form or by any means, including electronic storage and retrieval systems, except by explicit prior written permission of the artist.
Book design by Meggan Laxalt Mackey, Studio M Publications and Design, Boise, Idaho.