One More Round: Examining a Career in the Combative Courtrooms of America (Paperback)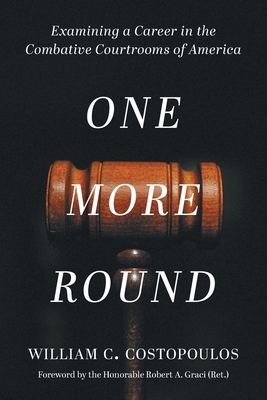 $21.99

Not In Stock - Usually Available in 1-5 Days
Description
---
It's been said that the law is a jealous mistress. She's also irresistibly passionate and unpredictably cruel. In every attorney's life, there comes a day when it's no longer possible to keep up with her demands. In her wake comes the dreaded question, was it meaningful in the end? Was the love affair worth all the sacrifices and stress, the highs and lows?

William Costopoulos decides that it's time for his reckoning. Bill has won some incredible fights, making his mark on Pennsylvania history-and collecting a wealth of stories stranger than fiction. In this book, he recounts the most sensational highlights of his fifty-year professional history: from his beginnings as an assistant district attorney and the turn of fate that called him to criminal defense, to the notorious cases that made national headlines and saw him argue before some of America's most powerful legislators.

He is asked all the time whether he'd do it all over again if he had the chance. A criminal defense attorney takes some serious hits in the combative arena of the courtroom, even in the cases he wins. The anguish that comes with this calling has to stay under wraps so that all the jury sees is a confident fighter. It's a tough call, but Bill Costopoulos has never been able to resist going one more round.