#BreakIntoVC: How to Break Into Venture Capital and Think Like an Investor Whether You're a Student, Entrepreneur or Working Profess (Paperback)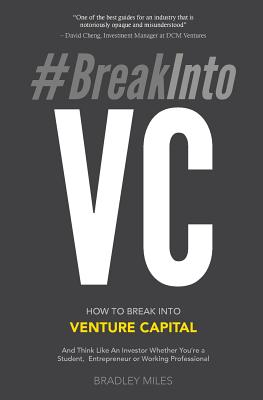 $12.95
Not In Stock - Usually Available in 1-5 Days
Description
---
The first of it's kind, #BreakIntoVC is an essential guide for anyone looking to gain a straightforward knowledge base on the fundamentals of venture capital. Providing research, resources, anecdotes, and information, #BreakIntoVC will help college undergrads make the most of interviews and meetings while demystifying venture capital and making the industry accessible.
With a small number of opportunities in venture capital and a growing candidate pool, set yourself up for success by getting the insights from insiders. By reading this book, you'll have a clear understanding of what an incoming analyst in a venture capital firm should know. You'll get the basics of accounting, how to pitch companies and understand valuation techniques from early to late stage companies.
If you're exploring the industry or if you're curious about venture investing, #BreakIntoVC is a great book to get you started.