Amped (Paperback)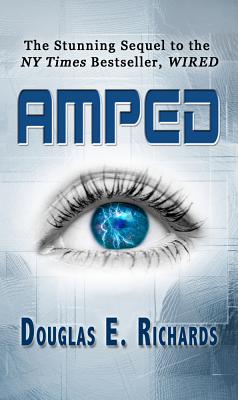 $13.65

Not In Stock - Usually Available in 1-5 Days
(This book cannot be returned.)
Description
---
A riveting near-future thriller. From the New York Times bestselling author whose books have sold over a million copies.

Kira Miller is a brilliant scientist who discovers how to temporarily boost human IQ to dizzying levels. But this transcendent intelligence brings with it a ruthless megalomania. Determined to use her discovery to propel human civilization to a higher plane, despite this side effect, Kira and ex-special forces operative David Desh recruit a small group of accomplished scientists, all of whom are safely off the grid. Or so they think . . .

Soon Kira and her team are fighting for their lives against unknown but powerful adversaries. Worse still, while on the run and being relentlessly attacked from all quarters, Kira comes across evidence of savage acts that the enhanced version of Desh kept hidden, even from himself. Now both she and Desh must question everything they think they know. Can they trust each other? Can they even trust themselves?

And all the while, the greatest threat of all may be coming from an entirely unexpected direction. A threat that could lead to devastation on a global scale. And time is quickly running out . . .

Like its predecessor, AMPED is a smart thriller crammed with breakneck action, unexpected twists, mind-blowing science, and philosophical and ethical concepts readers will be contemplating long after they've read the last page.

"Richards is an extraordinary writer," (Dean Koontz) who can "keep you turning the pages all night long." (Douglas Preston)

Near Future Science Fiction Thrillers by Douglas E. Richards
WIRED (Wired 1)
AMPED (Wired 2)

MIND'S EYE (Nick Hall 1)
BRAINWEB (Nick Hall 2)
MIND WAR (Nick Hall 3)

SPLIT SECOND (Split Second 1)
TIME FRAME (Split Second 2)

QUANTUM LENS
GAME CHANGER
INFINITY BORN
SEEKER-
VERACITY
ORACLE
THE ENIGMA CUBE

Kids Science Fiction Thrillers (9 and up, enjoyed by kids and adults alike)
TRAPPED (Prometheus Project 1)
CAPTURED (Prometheus Project 2)
STRANDED (Prometheus Project 3)

OUT OF THIS WORLD
THE DEVIL'S SWORD.
About the Author
---
Douglas E. Richards has been widely praised for his ability to weave action, suspense, and science into riveting novels that brilliantly straddle the thriller and science fiction genres. He is the New York Times and USA Today bestselling author of WIRED, its sequel, AMPED, THE CURE, and six critically acclaimed middle-grade adventures enjoyed by kids and adults alike. A former biotech executive, Richards earned a BS in microbiology from the Ohio State University, a master's degree in genetic engineering from the University of Wisconsin (where he engineered mutant viruses now named after him), and an MBA from the University of Chicago. In recognition of his work, Richards was selected to be a "special guest" at San Diego Comic-Con International, along with such icons as Stan Lee and Ray Bradbury. He has written numerous feature articles for the award-winning magazine, National Geographic KIDS -- some having appeared in a dozen languages in as many as sixteen countries -- as well as essays for the BBC, The Australian Broadcasting Corporation, Earth & Sky, Today's Parent, and many others. The author currently lives in San Diego, California, with his wife, two children, and two dogs. You can friend Richards on Facebook at Douglas E. Richards Author, and write to him at doug@san.rr.com