Le plus long circuit (Paperback)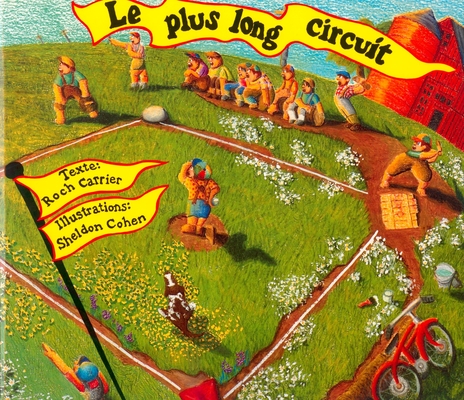 $7.95
Email or call for pricing & availability
Description
---
"The longest home run in the history of baseball was hit by a girl." So begins a baseball misadventure in the village of Ste. Justine. This time, a strange girl named Adeline shows up at the daisy field where Roch and his friends play baseball all summer. She proceeds to hit a towering home run…right through the window of the crankiest man in town. Adeline has other powers as well, which Roch and the boys discover at a magic show. But without the baseball, the game cannot go on. When Adeline literally disappears, who do you think has to get the ball back?
About the Author
---
Roch Carrier is Canada's National Librarian and the beloved author of many Canadian classics for both adults and children. In 1968 he published his hugely successful novel, La Guerre, Yes Sir!. He has written many novels, short stories, plays, film and television scripts, essays, travel books, and poetry. Several of his works have become classics and are used in schools and universities around the world. His much-loved children's story, The Hockey Sweater, remains a timeless favorite. In 1991, Roch Carrier was awarded the Stephen Leacock Award for Humour for Prayers of a Very Wise Child. Among his many other awards and honors, Mr. Carrier is a Fellow of the Royal Society of Canada, an Officer of the Order of Canada, and the holder of many honorary doctorates. All this from the boy who grew up in a village with no library and no books. Now the village has a brand new library – the Roch Carrier Library.

Sheldon Cohen has had an impressive career in illustration, animation, film directing, and painting. His films include Pies (1983), which won the Blue Ribbon at the American Film Festival, and The Sweater (1980), which won fifteen international awards. The Sweater's success with a book version of the film and a sequel, the latter won the Governor General's Award for Children's Illustrations. The Snow Cat, an animated film based on a children's book by the late Dayal Kaur Khalsa, was released in 1998. In addition to his work in film, Sheldon Cohen is an accomplished and highly regarded painter and a sought-after lecturer and teacher. He lives in Montreal.