A Streetcar Named Desire (Paperback)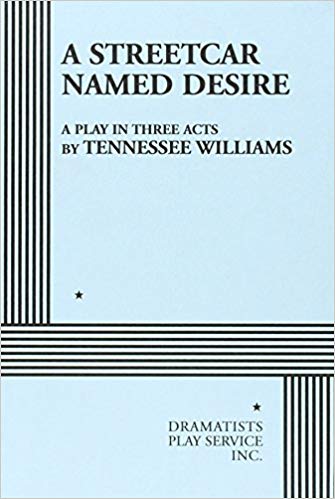 $9.99
Email or call for price.
Description
---
Full Length, Drama
6 men, 6 women (3 or 4 minor roles)
Total Cast: 12, Interior

The play reveals to the very depths the character of Blanche du Bois, a woman whose life has been undermined by her romantic illusions, which lead her to reject—so far as possible—the realities of life with which she is faced and which she consistently ignores. The pressure brought to bear upon her by her sister, with whom she goes to live in New Orleans, intensified by the earthy and extremely "normal" young husband of the latter, leads to a revelation of her tragic self-delusion and, in the end, to madness.
This celebrated play had a long and successful run on Broadway and the road. A tragic and effective drama which ranks as one of the greatest in our theatre.
About the Author
---
Tennessee Williams (1911-1983) was one of America's most prolific and important playwrights. His prodigious output included THE GLASS MENAGERIE (NY Drama Critics Award 1944), A STREETCAR NAMED DESIRE (New York Drama Critics Award, Pulitzer Prize 1947), SUMMER AND SMOKE (1948), THE ROSE TATTOO (1951), CAMINO REAL (1953), CAT ON A HOT TIN ROOF (New York Drama Critics Award, Pulitzer Prize 1955), ORPHEUS DESCENDING (1957), SWEET BIRD OF YOUTH (1959), NIGHT OF THE IGUANA (1961), THE MILK TRAIN DOESN'T STOP HERE ANYMORE (1963), OUT CRY (1973), VIEUX CARRE (1977), A LOVELY SUNDAY FOR CREVE COEUR (1979), and SOMETHING CLOUDY, SOMETHING CLEAR (1981). NOT ABOUT NIGHTINGALES, which he wrote in 1947, was produced at the Royal National Theatre, London, and at the Alley Theatre, Houston, in 1998 with great success.