My Life and an Era: The Autobiography of Buck Colbert Franklin (Paperback)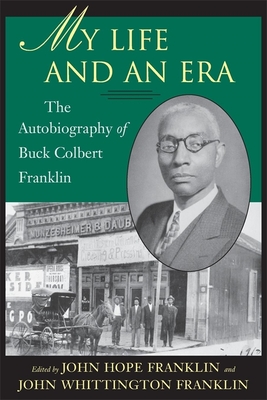 $24.95

Not In Stock - Usually Available in 1-5 Days
Description
---
"My father's life represented many layers of the human experience--freedman and Native American, farmer and rancher, rural educator and urban professional."--John Hope Franklin
Buck Colbert Franklin (1879-1960) led an extraordinary life; from his youth in what was then the Indian Territory to his practice of law in twentieth-century Tulsa, he was an observant witness to the changes in politics, law, daily existence, and race relations that transformed the wide-open Southwest. Fascinating in its depiction of an intelligent young man's coming of age in the days of the Land Rush and the closing of the frontier,
My Life and an Era
is equally important for its reporting of the triracial culture of early Oklahoma. Recalling his boyhood spent in the Chickasaw Nation, Franklin suggests that blacks fared better in Oklahoma in the days of the Indians than they did later with the white population. In addition to his insights about the social milieu, he offers youthful reminiscences of mustangs and mountain lions, of farming and ranch life, that might appear in a Western novel. After returning from college in Nashville and Atlanta, Franklin married a college classmate, studied law by mail, passed the bar, and struggled to build a practice in Springer and Ardmore in the first years of Oklahoma statehood. Eventually a successful attorney in Tulsa, he was an eyewitness to a number of important events in the Southwest, including the Tulsa race riot of 1921, which left more than 100 dead. His account clearly shows the growing racial tensions as more and more people moved into the state in the period leading up to World War II. Rounded out by an older man's reflections on race, religion, culture, and law,
My Life and an Era
presents a true, firsthand account of a unique yet defining place and time in the nation's history, as told by an eloquent and impassioned writer.
About the Author
---
John Hope Franklin (1915-2009) was James B. Duke Professor of History Emeritus and professor of legal history at Duke University. For many years he was the John Matthews Manly Distinguished Service Professor of History at the University of Chicago. He served as president of the Southern Historical Association, the Organization of American Historians, the American Historical Association, the American Studies Association, and the Society of Phi Beta Kappa. He received more than eighty honorary degrees. His books include From Slavery to Freedom: A History of Negro Americans; Racial Equality in America; George Washington Williams: A Biography; and Race and History: Selected Essays, 1938-1988.