The Next Great Jane (Hardcover)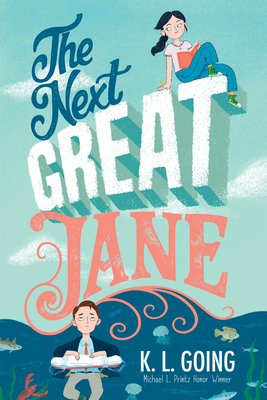 Staff Reviews
---
I love books about books, books about writing, and books that have anything to do with Jane Austen. So THE NEXT GREAT JANE pretty much ticked all my boxes before I even started reading it. And it did not disappoint when I did! Jane is a quirky, relatable, and absolutely awesome heroine, and the relationships between her, her parents, Devon, and all the characters really make the story so much fun to read. Plus with all the little nuggets of Jane Austen novels sprinkled throughout, this book is perfect for kids and parents alike to enjoy.
— Marielle
Description
---
From award-winning author K. L. Going comes a happily-ever-after story of a girl who discovers the true secret to all good writing--through an unlikely friendship, some well-intentioned matchmaking, and little bit of science.

Jane Brannen wants nothing more than to become a famous author like Jane Austen--she just needs to figure out the key to literary success! Her chance to uncover the secret arrives when bestselling author J. E. Fairfax visits her tiny town of Whickett Harbor. Unfortunately, a hurricane rolls in and Jane gets stuck with the author's snobbish son, Devon, instead. But when the skies clear, Jane realizes the wind has blown in something worse than annoying boys: Her mother, Susan, and Susan's new fiancé, Erik, have flown all the way from Hollywood to file for custody and bring Jane back to California. Now she needs to find a mate for her marine biologist father and figure out what's truly important about Whickett Harbor, so she can prove to her mother that this is where she's meant to stay.
About the Author
---
K. L. Going lives with her family in the Hudson Valley area of New York State. Since graduating from college she has worked as an adult literacy tutor, a ticket agent for a major airline, a front desk clerk at a resort hotel, and an assistant in a Manhattan literary agency. She has lived in Maine, Oregon, Pennsylvania, Louisiana and New York. K.L. is the author of many books, including Fat Kid Rules The World, The Liberation of Gabriel King, and Dog in Charge. Her first novel, Fat Kid Rules the World, was a YALSA Michael L. Printz honor book.
Praise For…
---
* "Buoyant, with interesting plot developments, layered characters, humorous moments, and a healthy dose of marine science. . . Adoration for Jane Austen  and a matchmaking scheme worthy of Emma Woodhouse add an extra dash of heart to this wonderfully told tale."—Booklist, starred review

* "Fans of Going will love her latest book, and new fans will emerge with a new favorite. Going has created another original and captivating story by weaving engaging characters in an ordinary setting who do incredible and impossible things. An inspirational must-have for every library."—School Library Journal, starred review

"Going succeeds with witty banter and young small-town characters that are both sophisticated and accessible. . . . This humorous tale is led by a young writer who is, like Jane Austen, quite determined."—Kirkus Reviews

"Lively romantic comedy with timely discussions of natural science and climate change, as well as advice on what it takes to become a successful author."—Publishers Weekly