Home: A Memoir of My Early Years (Paperback)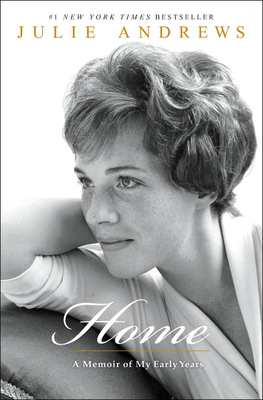 Staff Reviews
---
Julie Andrews has been one of my idols since I was very young. The Sound of Music is one of my all-time favorite musicals. Home details Julie's life, growing up during WWII, in a dysfunctional family. Coming from a musical, entertainment family, Julie started singing training at age 9 and 1/2, even singing for Queen Elizabeth! At the age of 12, she began her career in London musicals, the beginning of a charmed life where she met many famous actors. At age 14, she finds out a secret about her father. Marriage to Tony Walton and the birth of their daughter Emma close this phase of her story. If you are like me, you may want to continue with Home Work, a sequel!
— Mary
Description
---
"A frank, intriguing memoir."
--People "Painfully shrewd, and written with real delicacy and pathos."
--The New York Times Book Review "Home reflects the very qualities that first made the working-class English singer a star 45 years ago: intelligence, gentle humor, and a clear, sweet, surprisingly powerful voice . . . In warmly nostalgic later chapters, the book begins to glow."
--Entertainment Weekly "A delightful remembrance of her own childhood, and an engrossing prelude to her cinematic career . . . Andrews is an accomplished writer who holds back nothing while adding a patina of poetry to the antics and anecdotes throughout this memoir of bittersweet backstage encounters and theatrical triumphs."
--Publishers Weekly (starred review) "Frank and fascinating . . . Andrews comes across as plainspoken, guilelessly charming and resoundingly tough."
--Time In Home: A Memoir of My Early Years, Julie Andrews takes her readers on a warm, moving, and often humorous journey from a difficult upbringing in war-torn Britain to the brink of international stardom in America.
About the Author
---
Julie Andrews' career has flourished over seven decades. Most recently she's played the queen in both the Princess Diaries and Shrek films. Her bestselling children's books include The Last of the Really Great Whangdoodles, Mandy, and The Great American Mousical. She currently lives with her husband of 38 years, the acclaimed film director Blake Edwards, and they have five children and seven grandchildren.