Peter and the Starcatchers (Peter and the Starcatchers, Book One) (Paperback)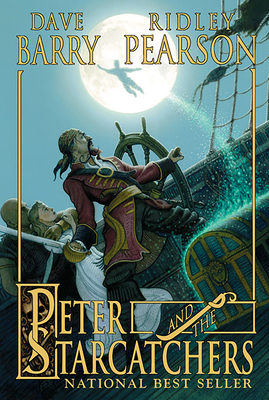 Description
---

Don'teven think of starting this bookunless you're sitting in a comfortable chair and have lots of time. Afast-paced, impossible-to-put-down adventure awaits as the young orphan Peterand his mates are dispatched to an island ruled by the evil King Zarboff. Theyset sail aboard the Never Land, a ship carrying a precious and mysterious trunk inits cargo hold, and the journey quickly becomes fraught with excitement anddanger.
            Discoverrichly developed characters in the sweet but sophisticated Molly, the scary butfamiliar Black Stache, and the fearless Peter. Treacherous battles withpirates, foreboding thunderstorms at sea, and evocative writing immerses thereader in a story that slowly and finally reveals the secrets and mysteries ofthe beloved Peter Pan.
About the Author
---

Ridley Pearson is the best-selling co-author of Peter and the Starcatchers and Peter and the Shadow Thieves. He is also the author of fourteen novels, including Cut and Run, The Middle of Nowhere, The Pied Piper, Beyond Recognition, No Witnesses, The First Victim, Undercurrents, and Parallel Lies. He was the first American to be awarded the Raymond Chandler/Fulbright Fellowship in Detective Fiction at Oxford University. In addition, he secretly wrote The Diary of Ellen Rimbauer, which was a companion book to the ABC-TV production of Stephen King's Rose Red.



Greg Call studied graphic design at the Colorado Institute of Art in Denver. After graduating in 1983, he worked as an Art Director at the Colorado Institute of Art until the desire to do more illustrative work found him in Pasadena, California, attending The Art Center College of Design. Upon graduation in 1988, he began working freelance for clients in music, entertainment, and publishing. Greg has been recognized for his work repeatedly, including awards from the Society of Illustrators and Addy awards among others.