The Hot Zone (Prebound)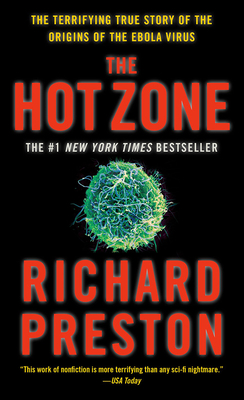 $19.80
Email or call for price.
Staff Reviews
---
I'll admit I'm kind of obsessed with viruses. And if you're like me, then you probably follow a zillion scientists on Twitter and stay up to date on Sars-Cov-2 and COVID-19. And maybe you even heard about it long before others did, and maybe you even tried to warn people about the coming pandemic and tell them to stock up on food and prepare to stay at home for a long period of time? If this is you, then you'll want this book. It's the story of the Ebola virus and how in 1989 a version of the virus was discovered in the suburbs of Washington DC in Reston VA. There was a mad rush to contain it, and the US Army was even called in. The whole thing was kept from the public until Preston wrote an article about it called "Crisis in the Hot Zone," and portions of that article became this book.
— Jennifer
Description
---
The true story of how a deadly virus from the central African rain forest suddenly appears in a Washington, D.C., animal test lab. In a matter of days, 90% of the primates exposed to the virus are dead, and secret government forces are mobilized to stop the spread of this exotic hot virus.