The Midnight Front: A Dark Arts Novel (Paperback)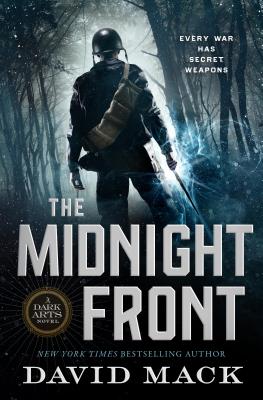 Other Books in Series
This is book number 1 in the Dark Arts series.
Description
---
From New York Times bestselling author David Mack comes a visionary World War II-era adventure. The Midnight Front is the epic first novel in the Dark Arts series.

On the eve of World War Two, Nazi sorcerers come gunning for Cade but kill his family instead. His one path of vengeance is to become an apprentice of The Midnight Front—the Allies' top-secret magickal warfare program—and become a sorcerer himself.
Unsure who will kill him first—his allies, his enemies, or the demons he has to use to wield magick—Cade fights his way through occupied Europe and enemy lines. But he learns too late the true price of revenge will be more terrible than just the loss of his soul—and there's no task harder than doing good with a power born of ultimate evil.
About the Author
---
DAVID MACK is the New York Times bestselling author of more than twenty-five novels, including the Star Trek Destiny and Cold Equations trilogies. He co-developed the acclaimed Star Trek Vanguard series and its sequel, Star Trek: Seekers. His writing credits span several media, including television (Star Trek: Deep Space Nine), film, short fiction, magazines, comic books, computer games, and live theater. He currently resides in New York City.
Praise For…
---
"This novel is in equipoise—the horrific and evil balanced expertly by humor and good. … The Midnight Front is as close to a perfect novel that I've had the pleasure to read in a long time. Mack leaves no cliffhangers and beautifully sets up the next novel in the series. I can't recommend The Midnight Front enough."—The Qwillery
"If you grew up reading and rereading the Harry Potter books, The Midnight Front is right up your alley."—The Nameless Zine
"A rollicking, high-stakes adventure with action tailor-made for the movies." —Brian Staveley, author of The Emperor's Blades
"Smart and surprising—fun and fascinating speculation grounded in familiar history, a rich and textured variation on the magical arts, and complex characters struggling to fight the good fight. I loved it." —Kirsten Beyer, New York Times Bestselling author of Children of the Storm
"The Dark Arts series hits the ground running. Exciting and smart, David Mack's secret history of World War II and the occult heroes and villains that fought it will keep you up well past midnight." —R. S. Belcher, author of The Six-Gun Tarot
"An epic thrill ride, taking us deep into a compelling, hypnotic vision of history as it might have been. Powerful, fast paced, and engaging." —Ilana C. Myer, author of Last Song Before Night

"An exciting, secret struggle of occult powers and military action. Can't wait for the next one!" —Richard Baker, author of Valiant Dust

"Propulsive, with well-crafted characters and cinematic set pieces culled from the war's most momentous crossroads. Equal parts brimstone and gunpowder, the book deftly mixes the tropes of high fantasy into a semirealistic portrayal of WWII, resulting in an entertaining scenario that wouldn't be out of place in a video game or a spirited match of Dungeons & Dragons. A complex, entertaining fantasy that sets loose a 'chosen one' hero arc among the dogs of war." —Kirkus Reviews