Elantris: Tenth Anniversary Author's Definitive Edition (Paperback)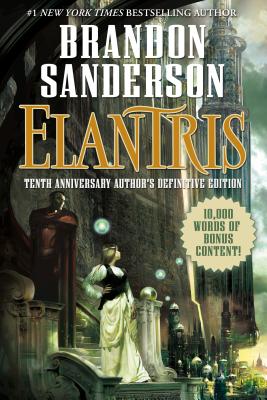 Staff Reviews
---
Elantris is a fantastic novel that turns one of the main concepts of fantasy on its head. It asks the question what happens to a magical society when magic suddenly stops working. When all of the people who were once all-powerful wizards are now beginning to fall apart and decay. Set against the backdrop of a brewing religious conflict (which is masterfully written) Elantris is at its heart a story about healing and hope.
— Drew
Description
---
In 2005, Brandon Sanderson debuted with Elantris, an epic fantasy unlike any other then on the market. To celebrate its tenth anniversary, Tor is reissuing Elantris in a special edition, a fresh chance to introduce it to the myriad readers who have since become Sanderson fans.

This new edition begins with a preface by author Dan Wells, the first person to read the completed novel, and a new afterword by Sanderson explaining how he came to write the book and its place in the Cosmere, the unified universe of all his Tor novels.

Also included is an expanded version of the "Ars Arcanum" appendix, with more of the technical details of the book's magic that fans can never get enough of.

Elantris was truly a milestone both for Sanderson and for the genre of epic fantasy. It deserves this special treatment, something Tor has done only once before, with Orson Scott Card's Ender's Game. Sanderson fans old and new will be excited to discover it.

Other Tor books by Brandon Sanderson

The Cosmere

The Stormlight Archive
The Way of Kings
Words of Radiance
Edgedancer (Novella)
Oathbringer

The Mistborn trilogy
Mistborn: The Final Empire
The Well of Ascension
The Hero of Ages

Mistborn: The Wax and Wayne series
Alloy of Law
Shadows of Self
Bands of Mourning

Collection
Arcanum Unbounded

Other Cosmere novels
Elantris
Warbreaker

The Alcatraz vs. the Evil Librarians series
Alcatraz vs. the Evil Librarians
The Scrivener's Bones
The Knights of Crystallia
The Shattered Lens
The Dark Talent

The Rithmatist series
The Rithmatist

Other books by Brandon Sanderson

The Reckoners
Steelheart
Firefight
Calamity
About the Author
---
Brandon Sanderson grew up in Lincoln, Nebraska. He lives in Utah with his wife and children and teaches creative writing at Brigham Young University. He is the author of such bestsellers as the Mistborn® trilogy and its sequels, The Alloy of Law, Shadows of Self, and The Bands of Mourning; the Stormlight Archive novels The Way of Kings and Words of Radiance; and other novels, including The Rithmatist and Steelheart. In 2013, he won a Hugo Award for Best Novella for The Emperor's Soul, set in the world of his acclaimed first novel, Elantris. Additionally, he was chosen to complete Robert Jordan's Wheel of Time® sequence.
Praise For…
---
"Elantris is a new Ben Hur for the fantasy genre, with a sweeping, epic storyline and well-drawn and sympathetic characters." —Kevin J. Anderson, New York Times bestselling coauthor of Dune: The Battle Of Corrin

"While every new fantasy author is hailed as unique, new, and different, Brandon Sanderson's Elantris does indeed provide an absorbing adventure in a unique, different, and well-thought-out fantasy world, with a few nifty twists as well." —L. E. Modesitt, Jr.

"Brandon Sanderson is the real thing--an exciting storyteller with a unique and powerful vision. Elantris is one of the finest debuts I've seen in years." —David Farland

"Brandon Sanderson's Elantris is a marvelous, magic monster of a book, packed full of intrigue and daring, based around a killer high concept. When the city of the gods becomes a city of the damned, who and what do you believe in? The story twists and turns, characters bait traps for one another as they vie for secular and religious power, and no one is necessarily who or what they seem. Royal houses rise and fall, the fate of all Humanity is in the balance, and maybe, just maybe . . . the gods are coming back. All this and a genuinely touching love story too." —Simon R. Green, the New York Times bestselling author of the Deathstalker, Nightside and Hawk & Fisher series