Exit Plan: A Jerry Mitchell Novel (Mass Market)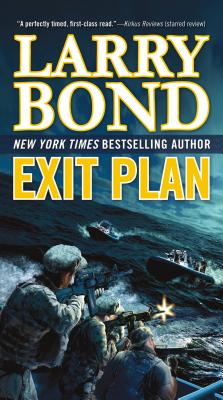 $9.99
Email or call for price.
Other Books in Series
This is book number 3 in the A Jerry Mitchell Novel series.
Description
---
Jerry Mitchell is on exercises off the coast of Pakistan when his submarine is ordered to a rendezvous off the Iranian coast. Once there, disembarked SEALs, experts in seaborne commando operations, are to extract two Iranian nationals who have sensitive information on Iran's nuclear weapons program.

But while en route, the ASDS minisub suffers a battery fire, killing one crew member and forcing the rest of the occupants, four SEALs and LCDR Mitchell, to scuttle their disabled craft and swim for shore. There they find the two Iranians waiting for them, but their attempts at returning to Michigan are thwarted by heavy Iranian patrol boat activity. When agents of Iran's secret police, VEVAK, appear, escape seems all but impossible.

As each attempt falls apart, time and options are quickly running out...

And when they find themselves surrounded by Iranian Revolutionary Guards Corp troops, they create on a bold plan to escape by sea. It's a desperate gamble, but it's the only way to get the proof of the Iranian plot to the US... and prevent a devastating new war ... in Larry Bond's Exit Plan.

This edition of the book is the deluxe, tall rack mass market paperback.
About the Author
---
Larry Bond is the author of several bestselling military thrillers, including Crash Dive, Cold Choices, Dangerous Ground, Red Phoenix and the Larry Bond's First Team and Larry Bond's Red Dragon Rising series. He was a naval officer for six years, serving four on a destroyer and two on shore duty in the Washington DC area. He's also worked as a warfare analyst and antisubmarine technology expert, and he now writes and designs computer games, including Harpoon and Command at Sea. He makes his home in Springfield, Virginia.
Praise For…
---
Praise for Larry Bond

"Guaranteed to scare the hell out of you . . . you won't be able to put Fatal Thunder down 'til the last page!"
---W. E. B. Griffin, New York Times bestselling author of Top Secret

"Larry Bond is the literary heir of Tom Clancy."
---Stephen Coonts, New York Times bestselling author of The Art of War

"No one is better than Larry Bond at writing the geopolitical military thriller. . . . [He] is a master story teller. The best, bar none!"
---David Hagberg, New York Times bestselling author of Tower Down

"A superb storyteller . . . Bond, a former naval officer, seems to know everything about warfare, from the grunt in a foxhole to the fighter pilots far above the Earth."
---The New York Times on Red Phoenix

"No writer living can produce the depth of political intrigue like Larry Bond."
---Clive Cussler, New York Times bestselling author of Crescent Dawn

"This ripped-from-the-headlines tale . . . shows once again [Bond's] absolute mastery of the military action novel."
---Publishers Weekly (starred review) on Exit Plan