Redshirts: A Novel with Three Codas (Paperback)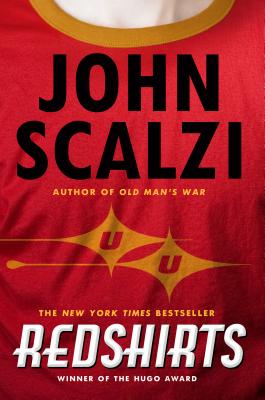 Email or call for price.
Out of Print - Please Call for Used Copy Availability
Description
---
Ensign Andrew Dahl has just been assigned to the Universal Union Capital Ship Intrepid, flagship of the Universal Union since the year 2456. It's a prestige posting, with the chance to serve on "Away Missions" alongside the starship's famous senior officers.

Life couldn't be better...until Andrew begins to realize that 1) every Away Mission involves a lethal confrontation with alien forces, 2) the ship's senior officers always survive these confrontations, and 3) sadly, at least one low-ranking crew member is invariably killed. Unsurprisingly, the savvier crew members below decks avoid Away Missions at all costs.

Then Andrew stumbles on information that transforms his and his colleagues' understanding of what the starship Intrepid really is...and offers them a crazy, high-risk chance to save their own lives.

Redshirts by John Scalzi is the winner of the 2013 Hugo Award for Best Novel.

Old Man's War Series
#1 Old Man's War
#2 The Ghost Brigades
#3 The Last Colony
#4 Zoe's Tale
#5 The Human Division
#6 The End of All Things
Short fiction: "After the Coup"

Other Tor Books
The Android's Dream
Agent to the Stars
Your Hate Mail Will Be Graded
Fuzzy Nation
Redshirts
Lock In
The Collapsing Empire (forthcoming)
About the Author
---
JOHN SCALZI is one of the most popular SF authors of his generation. His debut Old Man's War won him the John W. Campbell Award for Best New Writer. His New York Times bestsellers include The Last Colony, Fuzzy Nation,and Redshirts (which won the 2013 Hugo Award for Best Novel), and 2020's The Last Emperox. Material from his blog, Whatever, has also earned him two other Hugo Awards. Scalzi also serves as critic-at-large for the Los Angeles Times. He lives in Ohio with his wife and daughter.
Praise For…
---
"John Scalzi sets his imagination to STUN and scores a direct hit. Read on and prosper." —Joe Hill, New York Times bestselling author of Heart-Shaped Box

"I can honestly say I can't think of another book that ever made me laugh this much. Ever." —Patrick Rothfuss, New York Times bestselling author of The Name of the Wind

"Scalzi takes apart the whole Star Trek universe and puts it back together far more plausibly--and a lot funnier too." —Lev Grossman, New York Times bestselling author of The Magicians

"A real joy to read… It's hard to imagine a reader who wouldn't enjoy this one." —Booklist, starred review