Drift (Hardcover)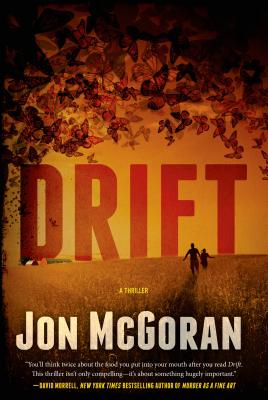 List Price: $24.99
Our Price: $15.00
(Save: $9.99 40%)
Description
---
When Philadelphia narcotics detective Doyle Carrick loses his mother and step-father within weeks of each other, he gains a twenty-day suspension for unprofessional behavior and instructions to lay low at the unfamiliar house he's inherited in rural Pennsylvania.
Feeling restless and out of place, Doyle is surprised to find himself falling for his new neighbor, Nola Watkins, who's under pressure to sell her organic farm to a large and mysterious development company. He's more surprised to see high-powered drug dealers driving the small-town roads dealers his bosses don't want to hear about.
But when the drug bust Doyle's been pushing for goes bad and the threats against Nola turn violent, Doyle begins to discover that what's growing in the farmland around Philadelphia is much deadlier than anything he could have imagined . . .
Quick, clever, and terrifying, Jon McGoran's "Drift" is a commercial thriller in the tradition of Nelson DeMille's "Plum Island.
About the Author
---
JON McGORAN has written about food and sustainability for twenty years, as communication director at Weavers Way Co-op in Philadelphia, and now as editor at Grid magazine. During that time he has also been an advocate for urban agriculture, cooperative development and labeling of genetically engineered foods. He is a founding member of the Philadelphia Liars Club, a group of published authors dedicated to promotion, networking, and service work. In Drift, he combines his interest in the increasingly bizarre world of food today with his love of the thriller.
Praise For…
---
"Jon McGoran is a writer to watch.  His effortless prose keeps his quirky characters ripping through a tricky plot that's as unusual as it is original.  Drift is a winner."
—F. Paul Wilson, New York Times bestselling author of Dark at the End

"Drift is a compelling and devious novel from a powerful new voice in thriller fiction. Jon McGoran has the chops to become one of the greats!"
—Jonathan Maberry, New York Times bestselling author of Assassin's Code

"A crisp organic thriller, freshly picked, and pickled with action… you'll never look at an apple the same way again."
—William Lashner, New York Times bestselling author of Blood and Bone
"Jon McGoran's wry narrative is on full display in Drift, a fun tale that follows the exploits of suspended detective Doyle Carrick, who learns the hard way not to stick his nose in his neighbors' business."
--Steve Alten, New York Times bestselling author of MEG and The Omega Project
"Cops, drugs, plenty of action. Drift is written with style and verve. Do yourself a favor and read this tough thriller."
—John Lutz, New York Times bestselling author of Serial

"Gripping, chilling and written with aplomb. Packed with plot twists and palpable tension; it's Lee Child's Killing Floor with a smart-aleck Reacher. Genuinely unputdownable."
--Owen Laukkanen, bestselling author of The Professionals
"Take the best parts of a Crichton technothriller, make it noir like Chandler and you've got Drift…a terrific read."
—Brad Parks, Shamus- and Nero-Award-winning author of The Good Cop
"Blends a ripped-from-the-headlines premise with a cutting-edge mystery and relentless action. A timely, terrifying environmental thriller, Drift will make you think twice the next time you fill your cart at the grocery store."
—Karen Dionne, author of Freezing Point