Shattered Trident (Hardcover)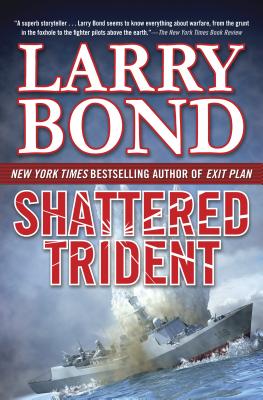 $27.99
Email or call for price.
Description
---
While trailing a Chinese nuclear attack sub, Jerry Mitchell, the captain of USS "North Dakota, "is shocked to see the Chinese boat torpedo a Vietnamese merchant ship.
This blatant act of aggression is the opening gambit in a war that has blindsided the U.S. and quickly embroiled all nations in the western Pacific. These nations, bound together in the newly formed Littoral Alliance, have begun a covert submarine campaign aimed at crippling China's economy before China can set in motion its own plot to dominate the region.
In a desperate attempt to buy the president enough time to resolve the crisis diplomatically, Mitchell's submarine squadron is ordered to interfere with attacks by both sides. China and the Littoral Alliance are both determined to win, no matter the cost, and as each side increases the level of violence, they approach a dangerous tipping point. Larry Bond's "Shattered Trident" is a race against time, as the submarines of Mitchell's squadron must execute their mission before the world witnesses an economic catastrophe or worse, a nuclear exchange.
About the Author
---
LARRY BOND is the author of numerous New York Times bestselling thrillers, including Exit Plan, Cold Choices, Vortex, Cauldron, and The Enemy Within. He also worked with Jim DeFelice on the Larry Bond's First Team series as well as the Larry Bond's Red Dragon Rising series. A former Naval Intelligence officer, warfare analyst, and anti-submarine technology expert, he makes his home in Springfield, Virginia.
Praise For…
---
"This ripped-from-the-headlines tale…shows once again his absolute mastery of the military action novel."
—Publishers Weekly, starred review on Exit Plan

"A perfectly timed, first-class read."
—Kirkus Reviews, starred review on Exit Plan

"Fans of military thrillers, especially those by Clancy and his ilk, should devour this one."
—Booklist on Cold Choices

"Calling to mind such undersea techno-thrillers as Clancy's The Hunt for Red October...this latest offering by Bond...is an edge-of-the-seat yarn."
—The New York Times Book Review on Dangerous Ground