Desmond and the Very Mean Word (Hardcover)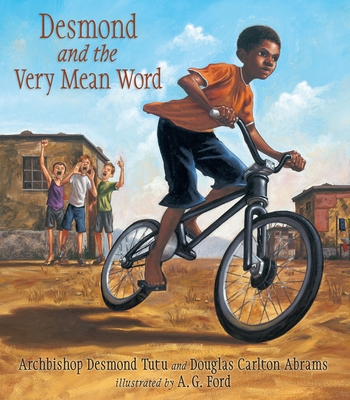 $17.99

Not In Stock - Usually Available in 1-5 Days
Description
---
Based on a true story from Archbishop Desmond Tutu's childhood in South Africa, Desmond and the Very Mean Word reveals the power of words and the secret of forgiveness.

When Desmond takes his new bicycle out for a ride through his neighborhood, his pride and joy turn to hurt and anger when a group of boys shout a very mean word at him. He first responds by shouting an insult, but soon discovers that fighting back with mean words doesn't make him feel any better. With the help of kindly Father Trevor, Desmond comes to understand his conflicted feelings and see that all people deserve compassion, whether or not they say they are sorry. Brought to vivid life in A. G. Ford's energetic illustrations, this heartfelt, relatable story conveys timeless wisdom about how to handle bullying and angry feelings, while seeing the good in everyone.
About the Author
---
Archbishop Desmond Tutu (1931-2021) was awarded the Nobel Peace Prize in 1984 for his lifelong struggle to bring equality, justice, and peace to his native country of South Africa. He also served as Archbishop of Cape Town, South Africa, from 1986 until 1996. In 1995, former South African President Nelson Mandela asked him to lead the Truth and Reconciliation Commission, which became a model of national forgiveness and coexistence. Archbishop Tutu co-authored God Has a Dream: A Vision of Hope for Our Time and is the author of Desmond and the Very Mean Word.

Douglas Carlton Abrams is the co-author with Archbishop Tutu of God's Dream. His many books have been translated into more than two dozen languages. He lives in California.

A. G. Ford is the illustrator of the New York Times bestseller Barack by Jonah Winter and Michelle by Deborah Hopkinson. He also illustrated Goal! by Mina Javaherbin. He lives in Dallas, Texas.
Praise For…
---
[A] heart-rending story...
—The New York Times Book Review

Ford's oil illustrations do a fine job of capturing the dusty days of township life, as well as Desmond's dark nights of the soul.
—Publishers Weekly

A thought-provoking lesson for young readers on the destructiveness of bullying and racism.
—Kirkus Reviews

Writing again with Abrams (God's Dream, 2008), Tutu offers a clear telling that feels much like a children's homily, the earnest tone and clean language (the offending word is never mentioned) reflecting his own wholesome spirit. Ford's dynamic paintings, with well-defined outlines and dramatic light, match the clarity of the narrative. The images fill the large-trim spreads, capturing the immediacy of the conflict and the tranquility of the resolution.
—Booklist

Archbishop Tutu describes the power of words and the secret of forgiveness in a story from his South African childhood during apartheid...The story avoids a preachy tone by staying true to Desmond's emotions and his struggle to reach a moral high ground. The book is both a lesson and a slice of life, giving insight into the person Archbishop Tutu became as an adult.
—School Library Journal