Guess How Much I Love You Tenth Anniversary Plush Pair (Fabric)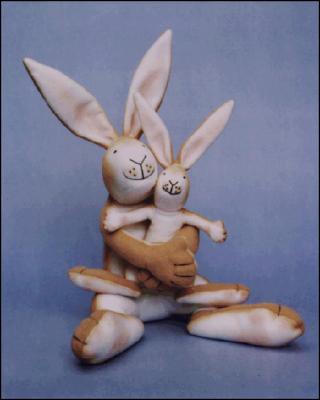 $7.99
Email or call for price.
Description
---
Celebrating 10 years of love--to the moon and back--with a new way to say "I love you"!

Readers won't be able to resist slipping this cuddly pair into someone special's Easter basket--or presenting them as a whimsical gift for Mother's Day, Father's Day, birthdays, or just any day. These soft plush hares have Velcro paws for hugging and are as lovable as the characters in the story--sure to become cherished friends in homes everywhere.
About the Author
---
SAM MCBRATNEY says, "I'd like to share just one thought a father sent to me. He said, 'On good nights my little boy loves me to the moon and back, but on bad nights he only loves me to the door and back.' If you're a parent, here's hoping that you mostly make it to the moon." Author Sam McBratney lives in Northern Ireland.

ANITA JERAM says, "All sorts of things have changed in the world since the Nutbrown Hares appeared in our lives, but they will never grow older and the sentiment they express will last forever. I'd like to hold on tight to Big Nutbrown Hare's ears and whisper, 'Thank you.'" Illustrator Anita Jeram lives in Northern Ireland.