Nightwatch on the Hinterlands (The Weep #1) (Paperback)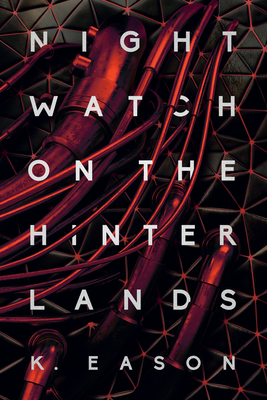 $18.00

Not In Stock - Usually Available in 1-5 Days
Other Books in Series
This is book number 1 in the The Weep series.
Description
---
Set in the universe of Rory Thorne, this new sci-fi mystery follows an unlikely duo who must discover the motive behind an unusual murder.

THE TEMPLAR: When Lieutenant Iari hears screams in the night, she expects to interrupt a robbery or break up a fight. Instead she discovers a murder with an impossible suspect: a riev, one of the battle-mecha decommissioned after the end of the last conflict, repurposed for manual labor. Riev don't kill people. And yet, clearly, one has. Iari sets out to find it.

THE SPY: Officially, Gaer is an ambassador from the vakari. Unofficially, he's also a spy, sending information back to his government, unfiltered by diplomatic channels. Unlike Iari, Gaer isn't so sure the riev's behavior is just a malfunction, since the riev were created using an unstable mixture of alchemy and arithmancy.

As Gaer and Iari search for the truth, they discover that the murderous riev is just a weapon in the hands of a wielder with wider ambitions than homicide--including releasing horrors not seen since the war, that make a rampaging riev seem insignificant...
About the Author
---
K. Eason lives with her husband and a trio of disreputable cats in Southern California, where she teaches first-year college students about zombies and food (not at the same time!). Her short fiction has appeared in Cabinet-des-Fées, Postcards from Hell: The First Thirteen, Jabberwocky 4, Crossed Genres, Kaleidotrope, Ink: Queer Sci Fi Anthology, and Shapers of Worlds: Volume III. She has written the On the Bones of Gods trilogy, The Thorne Chronicles, and The Weep duology, the second book of which, Nightwatch over Windscar, is forthcoming from DAW Books in November 2022. When she's not writing or commenting on essays, she's probably playing D&D.
Praise For…
---
Praise for Nightwatch on the Hinterlands

"Nightwatch is a book that, in less capable hands, might collapse under its own inventive worldbuilding. But Eason pulls it off, thanks to perfect pacing and the delightfully colorful duo at its core. Splendid stuff!" —Jason M. Hough, New York Times bestselling author

"Eason rips open the barrier between science fiction and fantasy to create an action-packed mystery with a distinctive voice, intriguing characters, and incredible worldbuilding." —Jim C. Hines, author of Terminal Alliance

"Interstellar intrigue, nightmares from the void, killer robots, and the magic of arithmancy. Nightwatch on the Hinterlands is a perfect blending of sci-fi and fantasy with a pair of the most unlikely and enjoyable detectives you'll ever meet." —Stephen Blackmoore, author of the Eric Carter novels

"Readers seeking a genre-blending tale will enjoy Eason's no-nonsense tone as she sets the plot of a thriller within her established world of science fiction and fantasy." —Booklist

"Eason has a real talent for building engrossing and intricate worlds that feel both whimsical and real at the same time." —The Quill to Live

Praise for K. Eason and the Rory Thorne universe

"Fun and feminist, unique and stylish, with a heroine who'll steal your heart. If fairy tales and space opera had a clever baby with a big vocabulary and a rebellious streak, this would be it." —Delilah S. Dawson, New York Times-bestselling author of Galaxy's Edge: Black Spire

"This is big, imaginative space opera at its best. Filled with complex characters and twisty politics, Rory Thorne is an awesome ride." —Michael Mammay, author of Planetside

"Rory Thorne raises the bar for self-rescuing princesses everywhere. This clever fusion of unforgiving fairy tale and fanciful space opera destroyed me emotionally in all the best ways." —Curtis C. Chen, author of Waypoint Kangaroo

"Readers will be clamoring for the second installment before Chapter One is over. Told with just enough editorializing from a Dickensian narrator, this story delights from cover to cover. The political intrigue never fails to surprise, each character is layered and compelling, and there's a perfect balance between science-fiction action and fairy-tale fantasy. Do not, under any circumstances, miss out on this." —Kirkus (starred review)

"Eason adds a feminist modern twist to fairy tale and sf tropes while presenting an intergalactic adventure that enthralls in its own right, striking that ideal balance between original and familiar.... A delightful start to what promises to be a smart, unique series." —Booklist (starred review)

"Beautifully layered, endlessly entertaining....  Using a mixture of hacking skills and hexes, political maneuvering, martial arts, and flirting, Rory manages to destroy the multiverse and control her own fate. How she gets there is a journey well worth the read. Exquisitely written with complex characters, sardonic wit, and immersive worldbuilding. Highly recommended." —Library Journal (starred review)

"Joyfully, delightfully amazing.... Definitely one of my favorite books of the year thus far." —The Roarbots