Black Sun Rising (Coldfire #1) (Paperback)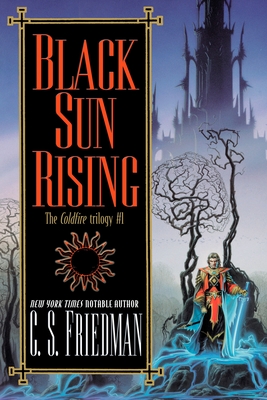 Other Books in Series
This is book number 1 in the Coldfire series.
Staff Reviews
---
Damien Vryce is a priest and he has been given a rather unusual mission, to begin to teach other priests the tenets of sorcery. These Sorcerers or Adepts as they are called each have a unique species of Fae that they work with and Damien must travel with an adept that has lost her memories as well as The Hunter an adept so dangerous that he is almost a devil to the church. The fate of the world hangs in the balance in this epic adventure!
— Drew
Description
---
Blending science fiction and fantasy, the first book of the Coldfire Trilogy tells a dark tale of an alien world where nightmares are made manifest.

Over a millennium ago, Erna, a seismically active yet beautiful world was settled by colonists from far-distant Earth. But the seemingly habitable planet was fraught with perils no one could have foretold. The colonists found themselves caught in a desperate battle for survival against the fae, a terrifying natural force with the power to prey upon the human mind itself, drawing forth a person's worst nightmare images or most treasured dreams and indiscriminately giving them life.

Twelve centuries after fate first stranded the colonists on Erna, mankind has achieved an uneasy stalemate, and human sorcerers manipulate the fae for their own profit, little realizing that demonic forces which feed upon such efforts are rapidly gaining in strength.

Now, as the hordes of the dark fae multiply, four people—Priest, Adept, Apprentice, and Sorcerer—are about to be drawn inexorably together for a mission which will force them to confront an evil beyond their imagining, in a conflict which will put not only their own lives but the very fate of humankind in jeopardy.
About the Author
---
An acknowledged master of Dark Fantasy, Celia Friedman is a John W. Campbell award finalist, and the author of the highly acclaimed Coldfire Trilogy, New York Times Notable Book of the Year This Alien Shore, In Conquest Born, The Madness Season, The Wilding, and The Magister Trilogy.  Ms. Friedman worked for twenty years as a professional costume designer, but retired from that career in 1996 to focus on her writing. She lives in Virginia, and can be contacted via her website, www.csfriedman.com.
Praise For…
---
Praise for the Coldfire trilogy

"Readers will be enthralled." —Publishers Weekly

"Complex and compelling ... The richly detailed setting and strong supporting characters give substance to a tale that explores the consequences of embracing evil in hopes of achieving its redemption. A priority purchase." —Library Journal

"Stunning…. A feast for those who like their fantasies dark, and as emotionally heady as a rich, red wine." —Locus

"The creative genius of C. S. Friedman burns brightly with the publication of her stunning new novel, blending elements of science fiction and fantasy into an extraordinary reading experience." —Rave Reviews

"Some of the best writing I have seen in quite a while, and the ending is excellent. Buy this one. Don't wait for it to come out in paperback. Very highly recommended." —Science Fiction Review

"A good mystery wrapped in an adventure story and set against an original and often fascinating background." —Science Fiction Chronicle

"Epic fantasy with a keen, dark edge ... shows off Friedman's gifts of craft and authorial insight." —South Bend Tribune

"Words do not suffice to describe the sheer imaginative genius, not to mention incredible power, of Ms. Friedman's formidable storytelling gift—you simply have to experience it." —Romantic Times

"Hard to put down." —Midwest Book Review