Festivals & Traditions in Switzerland (Hardcover)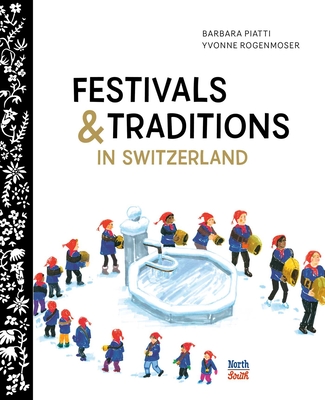 Description
---
Fire and fur, bells and masks!

This book takes you on a very special journey through Switzerland to experience the traditional festivals and customs celebrated in all the seasons. Some are happy and colorful, others are wild and scary. You'll hear the thunderous noise made by bell-ringers and brass bands at Carnival. You'll see Hom Strom and his pillar of fire burning in the night sky. You'll meet a real Pschuurirolli—half human, half wild beast—and the dreadful Tschäggäta with their terrifying masks. On the journey, you'll also encounter shepherds, rifle queens, and men dressed as trees. At the bull market in Zug, you'll place a bet on the fastest pig; and in the Jura region, you'll admire the horse riders as they race bareback over the track. You'll even find out why the Griffin goes as far as baring his behind in Basel. You'll be surprised. And you'll laugh. And you just might be a little frightened, too. Are you ready?

This unique collection is a fascinating treat for the whole family.
About the Author
---
Barbara Piatti holds a PhD in German studies. After working at various academic institutions, including Stanford University, ETH Zurich, and the Institute for Advanced Study in Berlin, Barbara set up her own cultural projects company in 2013. Her particular interest lies in Swiss cultural history, and she has written several books on the subject. She lives with her family in Basel, Switzerland. Find out more at www.barbara-piatti.ch.

Yvonne Rogenmoser studied scientific visualization at the Zurich University of the Arts and works as a freelance illustrator. Her nonfiction children's book about the Gotthard Tunnel (Crossing the Gotthard) was published by NorthSouth Books. She lives and works in Zurich and Versam, Graubünden, Switzerland. Find out more at www.yvonnerogenmoser.ch.

Translator and writer Mary Carozza studied German and English language and literature. Her translation work focuses on all things Swiss—art, culture, scholarship, and services—and has appeared in numerous publications. Originally from the United States, Mary has lived in Switzerland for more than thirty years, first in the city of Zurich and currently in the rural canton of Aargau, where she enjoys exploring the beautiful Reuss valley and discovering ancient legends and traditions.